Tucked away on a quiet street in Mayfair, only a few minutes walk from Green Park station, is a little slice of Spain. El Pirata has the buzzy, laidback vibe reminiscent of the typical neighbourhood tapas bars in Barcelona or Madrid.
Although El Pirata is located in one of London's grandest postcodes, famous for iconic hotels such as The Dorchester and sleek restaurants such as Nobu; El Pirata's cosy, rustic charm is a welcoming contrast. Set over two floors, the ground floor restaurant seats 35 with 12 at the bar and a black wrought iron spiral staircase leads to a lower ground floor for more private dining for 65.
The warm, subdued lighting inside compliments the colourful, framed prints by famous Spanish artists Picasso and Miró covering the walls. The al fresco seating is ideal for dining in the warmer parts of the year. Despite tables being on the street itself, the quiet nature of the road means that you can enjoy a relaxed meal without having to compete with the expected roaring of motors in the foreground. Similarly, the indoor seating, despite being intimate, creates an enjoyable atmosphere where you can still hold a relatively hushed conversation.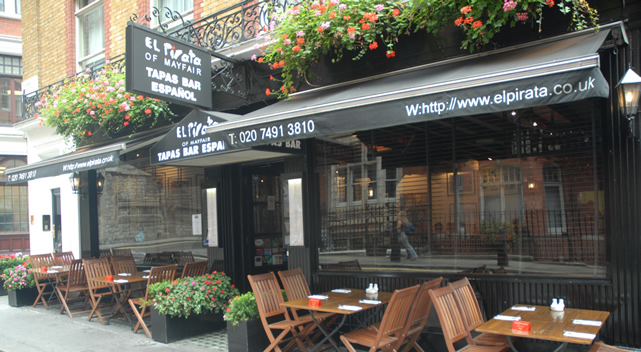 With over 60 different tapas dishes on the menu – including traditional favourites such as shellfish paella and patatas bravas – you're spoilt for choice when choosing what to eat at El Pirata. The portion sizes are generous for tapas so it is easy to over order if your eyes are bigger than your stomach.
The menu's influences are spread out from all across Spain. There's a great deal of fish, seafood, meat, and vegetarian options to choose from on the tapas menu, as well as over 100 Spanish wines – many of which are organic. On the manager's suggestion, we had the Carqueixal Albarino wine, originating from Rias Baixas (located on the southwestern coast of Galicia, Spain). This smooth and drinkable white wine is filled with intense, elegant aromas and is a perfect palate cleanser in between dishes.
We got stuck in by ordering pan con ali-oli (bread with a garlic mayonnaise dip), which naturally arrived first. This was shortly followed by padrón peppers, tabla de quesos y membrillo (four Spanish cheeses: Manchego, Guadamur, Mahon and Cabrales, served with quince jelly), boquerones (anchovies in vinegar), grilled wild asparagus and Iberian ham (apparently made from the best acorn-fed 'Black Foot' pig), as well as some pan con tomate for good measure (I firmly believe you can never have too much bread on the table).
After we had made our way through these plates, we were presented with the patatas bravas (you can judge a good tapas restaurant by how well they do the sauce on this dish),  garbanzos con pisto (chickpeas with slow-cooked aubergine, courgettes & peppers; admittedly more of a winter dish but still delicious), and then two types of croquettes – meat and vegetable.

Despite being absolutely stuffed after all of this, I would have loved to try the red pepper stuffed with vegetable risotto and cheese, their chorizo al vino, marinated chicken skewers, and much more. It definitely warrants another visit.
To top it off, the staff at El Pirata are lovely. Warm, welcoming and attentive right from the moment you arrive to the minute you leave, they really do make the dining experience all that more authentic and enjoyable.
Although the dishes may not be particularly inventive, it doesn't matter, as El Pirata is so confident in it's approach to traditional comfort-food tapas that it's no wonder the restaurant has been popular with Londoners for over twenty years. Long may it continue.
El Pirata of Mayfair
5-6 Down Street, Mayfair
London, W1J 7AQ
020 7491 3810
www.elpirata.co.uk
info@elpirata.co.uk