We travelled to North Africa to experience the richness of what Morocco had to offer, out of all the many places visited, we had to whittle it down to our favourite spots to stay and eat in Marrakech.
To Stay:
Riad Farnatchi
For a sense of sophistication within the heart of the media. Riad Farnatchi is the product of award-winning hoteliers James and Jonathan Wix, who spent two years converting the first three riads into a holiday home for friends and family. After some time, James thankfully opened up this beautiful house to the public.
Farnatchi is made up of five smaller riads that have been combined and features walls that date back 400 years, a beautifully converted riad with two stunning terraces with a heated pool, a candlelit dining room inside a stone carved cave-like room, reflecting a traditional Moroccan décor. We enjoyed the sunset on the roof terrace which has a glorious 360 view across the city before retiring to our double-level suite, stocked full of Molton Brown shower products, fresh fruit and Moroccan sweet treats.

The luxurious, elegant and light filled Farnatchi Spa opened in March last year boasting 4 spacious treatment rooms with showers, a traditional hammam and an extensive range of Ila Spa treatments from simple, effective head and shoulder massages to hugely spoiling 2 hour rituals of indulgence.
The much-anticipated opening of the Trou au Mur restaurant in April this year, almost directly opposite Riad Farnatchi, will offer a taste of 'Forgotten Morocco'. A pioneering endeavour to share some of the interesting dishes and vibrant rich flavours of Morocco's vanishing past, using traditional recipes passed down through generations. Guests can expect buttery, tender slow roasted mechoui from the wood-fired oven, Berkouse or tripe with white beans and spiced tomato. There will also be a few modern British twists on the menu. The restaurant, combining traditional Moroccan craftsmanship and unique modern furnishings, spans three levels so diners can choose to eat open air on the roof garden.

Riad Farnatchi is also available to be rented exclusively, with private use of the whole riad. With 10  suites, many people have already found that it is the perfect place for a wonderful private house party.
Riad BE Marrakech
The brainchild of incredibly cool Swiss-Moroccan owners Nicole and Mohammed, Riad BE is located in top spot Bab Doukkala, and is within easy walking distance of the souks and Djemaa el-Fna. Nicole and Mohammed's fabulous décor is both traditional and bohemian, offering original mosaic tiling with various whimsical pattern and print combinations, surrounding an emerald plunge pool – the jewel of this beautiful riad and one of the most famous backdrops of the Insta-millennial traveller.
The staff is incredibly welcoming and kind, so much so, a very lovely man named Ismail came to find us when we got lost in the labyrinth of the medina! Thoughtful touches to this riad really make it a beautiful home away from home and to top it all, we were the first guests to stay in their new 'friends and family suite'; a wonderfully decorated room with two opposite facing lofts with four beds, and a lounge with a monochromatic bathroom and shower.
Riad BE houses a quality stock of books, guides and games and serves a constantly replenished jug of cool water and complimentary fresh fruit. The breakfast should be classed as a feast; served on the roof terrace including bountiful fruit salad, home made muesli, Moroccan pancakes with fresh cream cheese and a variety of jams, with an omelette to follow. Dinner is on request and they also host cooking classes so guests can try their hand at traditional Moroccan dishes.
To Eat: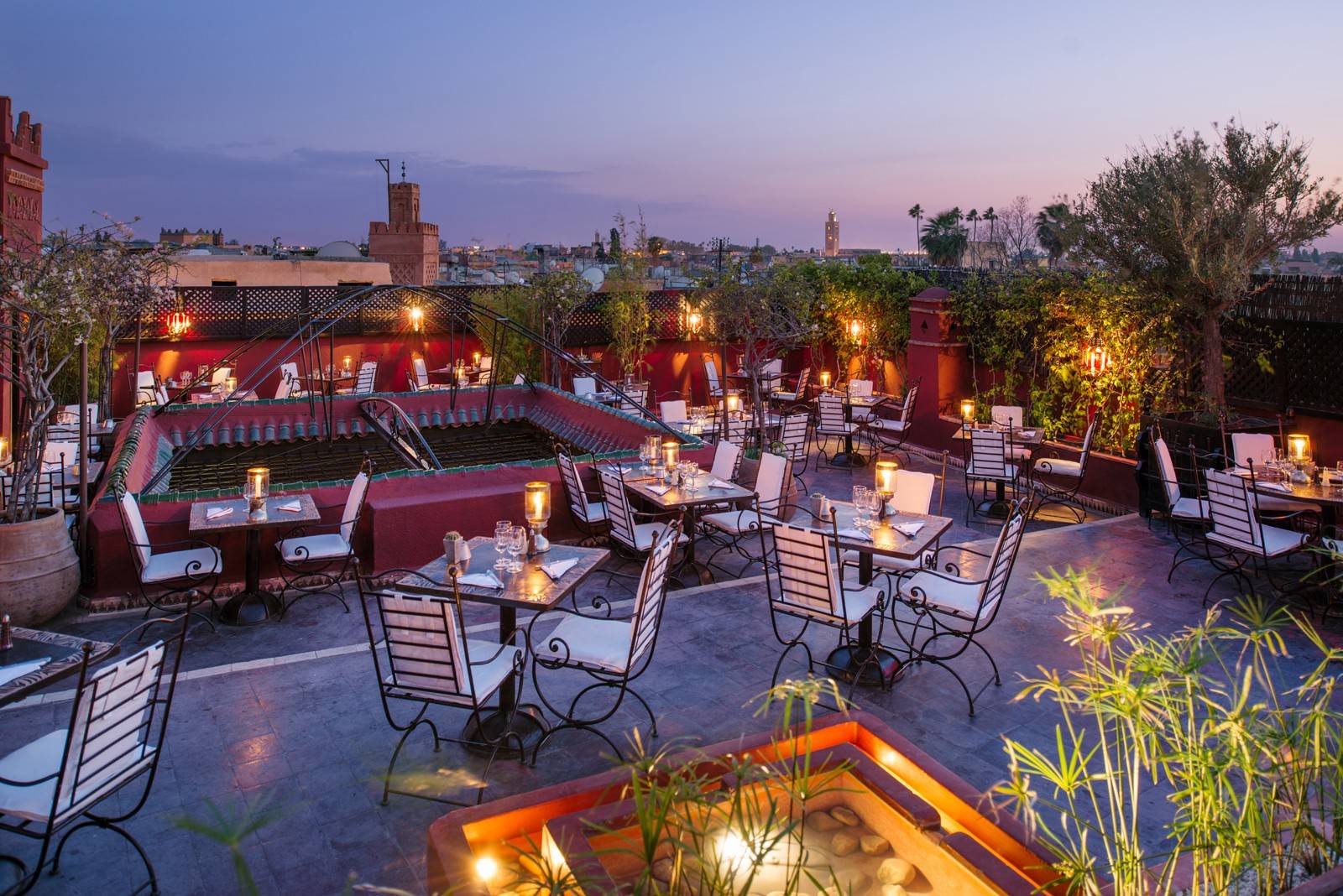 Le Foundouk
Traditionally, a 'foundouk' is an old merchants' inn. Most of the foundouks are now used as artisan's workshops, but this decadent restaurant serves a cosmopolitan vibe, great cocktails, and tasty French-Moroccan fare. A bevy of uniformed waiters and helpful staff serve up traditional Moroccan dishes such as lamb tagine with figs, and chicken tagine with preserved lemons, and French dishes like duck breast with gratin dauphinoise.
A smaller terrace adorned with statues and masks from West Africa rounds out the dining-room options. Our guides from Riad Farnatchi took us down to the restaurant and let us skip the dining queue! VIP service, indeed.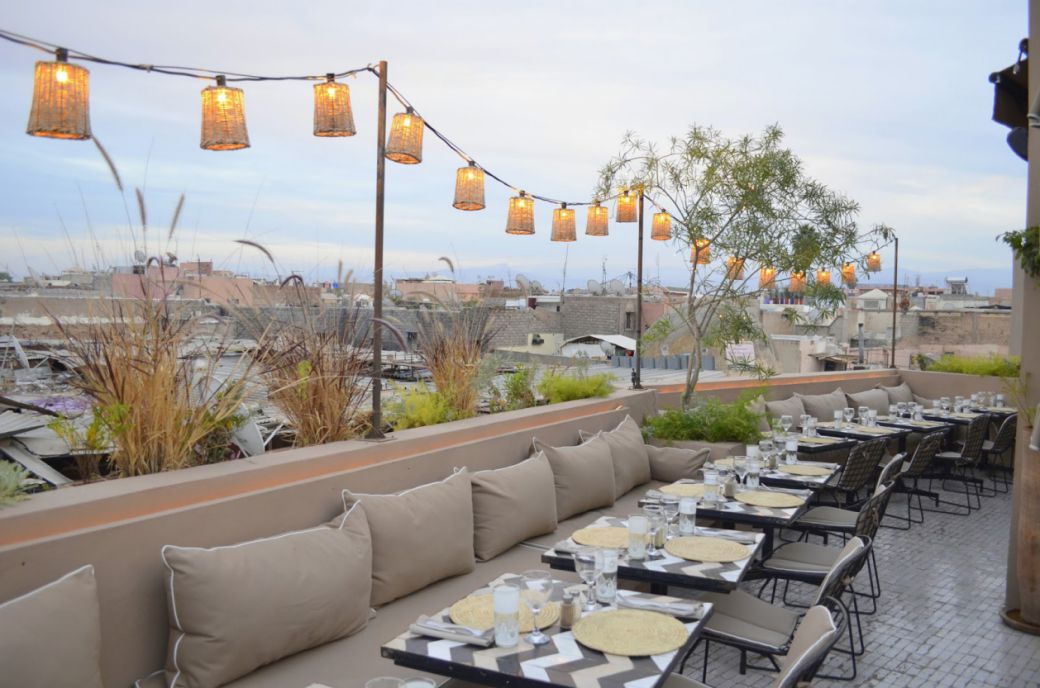 Nomad
Tucked away in a discreet corner of Rahba Kedima (the Spice Square) in the heart of the Marrakech souks, chic and trendy Nomad offers dining on the first floor in cosy salons, but in warm weather, most customers will head straight upstairs to find a spot on the two sun terraces. The sun terraces offer unique views across the Spice Square and medina rooftops.
The Nomad menu is distinctly creative and dynamic – appetisers include a delicious Shaved cauliflower and fennel salad with fresh herbs and toasted almonds, and a vegetarian version of the famous Moroccan pastilla, filled with spiced vegetables, goats cheese and caramelised tomato confit.
Nomad Restaurant Marrakech is the creation of Moroccan entrepreneur Kamal Laftimi and his brother Oussama, who previously opened Le Jardin restaurant in the heart of the medina. For the creation of Nomad, they teamed with architect and restaurant designer Sebastien de Gzell, who is responsible for the gorgeous French-Maghrebi look with a hint of Scandinavian style.