Looking to explore the stunning Croatian coastline this summer? A sailing holiday could be the way to go
"Some people, when they have a holiday, just want to go to Saltcoats, 25 miles along the coast from Glasgow. Some people don't even want to do that. They're happy to stay at home or watch the birds and the ducks float by in the park. And some want to go to the moon. It's about people's ambitions.
So said Sir Alex Ferguson in his 2014 autobiography. And as an adventurous Sybarite we suspect that you, dear reader, fall into the latter camp. Chances are you're not the type of traveller who wants to stay in the same room, in the same resort and eat at the same restaurant as last year. Rather we reckon that you're the type of traveller who seeks excitement and new experiences.
If we're right, why not consider experiencing Croatia's gorgeous Adriatic coastline on a summer sailing break. For arguably, there's no better way to see this Mediterranean jewel's stunning islands, historic towns and protected forests than from the sea.
Suggested itinerary
Most Croatian sailing odysseys depart from Dubrovnik – the pearl of the Adriatic of which George Bernard Shaw once said: "those who seek paradise on Earth should come to Dubrovnik and find it".

Leaving Dubrovnik, aka one of the world's most magnificent walled cities, the picturesque island of Mljet is a must. Croatia's greenest island, captivated the shipwrecked Odysseus for seven years and for good reason: the Adriatic island is sprinkled with pretty pine forests and fields, dreamy karst valleys and stunning salt water lakes.

Next up, The Sybarite suggests sailing north towards Korcula – believed to be the birthplace of Marco Polo – for its quiet coves and small sandy beaches, before visiting Vis, Croatia's most distant island.
From Vis, voyage along the Neretvanski Channel to Hvar – regularly voted one of the world's top 10 most beautiful islands. Known for its lavender, Hvar Town is architecturally stunning thanks to its honey coloured stone buildings, small theatre (the first in Europe) and pretty harbour overlooking a backdrop of islets.  At night, the promenade comes to life with locals and tourists alike strolling together amongst floodlit stalls, admiring artists' compositions and savouring the atmosphere provided by al-fresco eateries.
Then make a beeline to Brac (pronounced "Bratch"), famed for its small beach-side towns and beautiful white building stone mined from the island's quarries.

Last but by no means least, seek out Split – without a doubt one of the Mediterranean's most compelling cities owing to its palm lined harbour that's choc full of buzzing seafront bars and cafes.
Dream boat
Next up you need to think about the boat that best suits you and your travelling companions.

Sybarites who dream of dictating the pace and mood of their sailing holiday, could plump for a bareboat charter. Bareboat charters basically involve an individual renting a yacht and skippering it him or herself.

Yet tempting though it is to play captain, those with less experience – or anyone wanting the full on playboy lifestyle – would be better off bypassing a bareboat charter in favour of a crewed charter. As the name suggests, a crewed charter comes with crew who not only do the hard work for you (though you can get stuck in should you wish to improve your sailing skills) but also treat you like the sybarite you really are.
Once you have chosen your charter, it is time to settle on your ship which vary immensely in size, shape, style and function. They can be motor boats or sail boats and accommodate anything from two passengers ('two packs') to a small army. Higher end yachts are often equipped with a state of the art gym, spacious deck area – the perfect place to top up your tan – and jacuzzi, plus private cabins. Most yachts are also kitted out with water toys (windsurfers, water-ski, jet skis, scuba diving apparel et al) for your entertainment.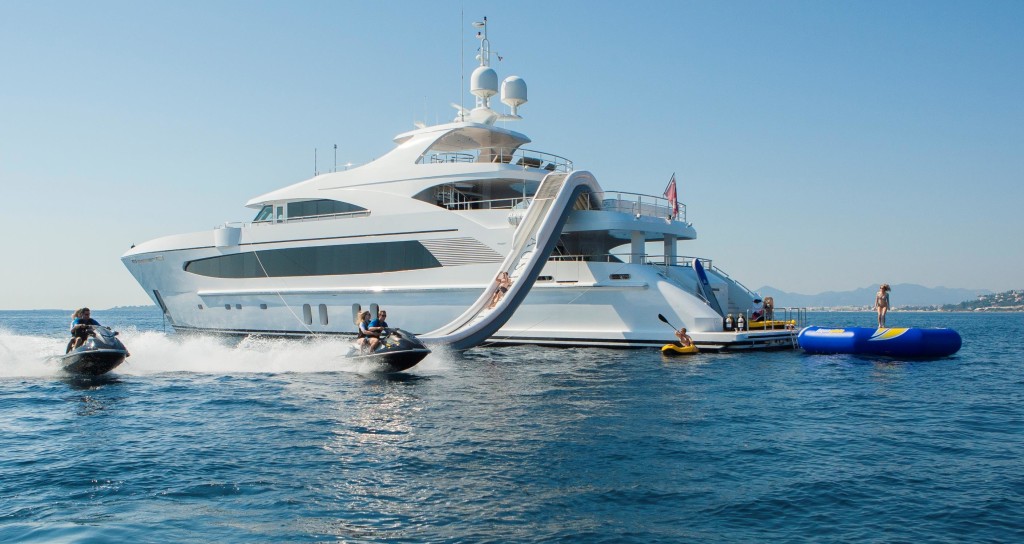 Time to talk
Seriously considering a sailing holiday in Croatia? It's time to consult a charter broker who will help determine which boat best matches your desires. Be honest with your broker: he or she needs to know not only your yacht and itinerary preferences but also your passions. Case in point? If you're a wine connoisseur, your broker can endeavour to match you with a yacht whose chef excels at food and wine pairings. When it comes to the crew, do you want them to keep their distance and wear uniforms? Or are you looking to end the trip as bosom buddies? Essentially the more you reveal, the easier it is for your broker to make your wishes a reality – although the best brokers and crew have a way of figuring out what you want before you have even thought of it.
Are you ready to set sail?
By Kaye Holland