Take in the luxury culture of Italy and France's most impressive rental houses, from a palazzo big enough to fit 500 people (party, anyone?) to a Versailles-like reign in France. We've found the most stunning and grandiose properties available for rent.
Villa Pliniana
LAKE COMO, ITALY
Villa Pliniana is a stunning 16th-century palazzo built by Count Giovanni Anguissola and located on an 18-acre private estate on the banks of the famed Lake Como. The Villa was recently restored and brought up to the highest contemporary standards while maintaining the charm and historical details of the original design. 

The Villa Pliniana complex and its 18-acre gardens are available for families and groups and is rented only as a whole to guarantee privacy. It offers 10 luxurious bedrooms within four large apartments in the main villa plus three additional stand-alone villas that offer an additional 9 bedrooms total, which in aggregate can accommodate up to 39 guests. In addition, the Estate features its own private spa where there is a covered heated swimming pool with a Jacuzzi, spa, Turkish bath, Scottish showers, sauna and a relaxing lounge mezzanine. There is also a heliport, ample parking and a large jetty. Each of the villas in the Pliniana complex boasts lake views and is equipped with the state-of-the-art technology.
Price on request, from Abercrombie & Kent Villas
Villa Zambonina
VERONA, ITALY
Villa Zambonina is a magnificent 17th-century Palladian villa set on a farming estate near the splendid city of Verona. Grandly scaled, decorated with frescoes and trompe l'oeil paintings and furnished with antiques, it is an appropriate base for exploring a part of Italy known for its operas, fine wines and as the setting of Romeo and Juliet. It is not, however, too formal a house for families, or for those wanting to try out the Veneto's marvellous range of biking routes. Rare for a house of this age, with air-conditioned bedrooms with an ample supply of bathrooms, including several ensuites, as well as an updated kitchen. The villa is divided into two self-sufficient wings, one facing a beautiful Italian garden, the other a lovely courtyard. There is an endless choice of sitting and dining areas, indoors and out, with several large enough to accommodate the entire group. A gate from the courtyard leads to a swimming pool set on a lawn with plenty of teak loungers and a pergola for alfresco dining. It's a short drive from the villa to Verona or to Lake Garda and the wineries of Bardolino, Soave and Valpolicella.
From £3,839 per week from Tuscany Now and More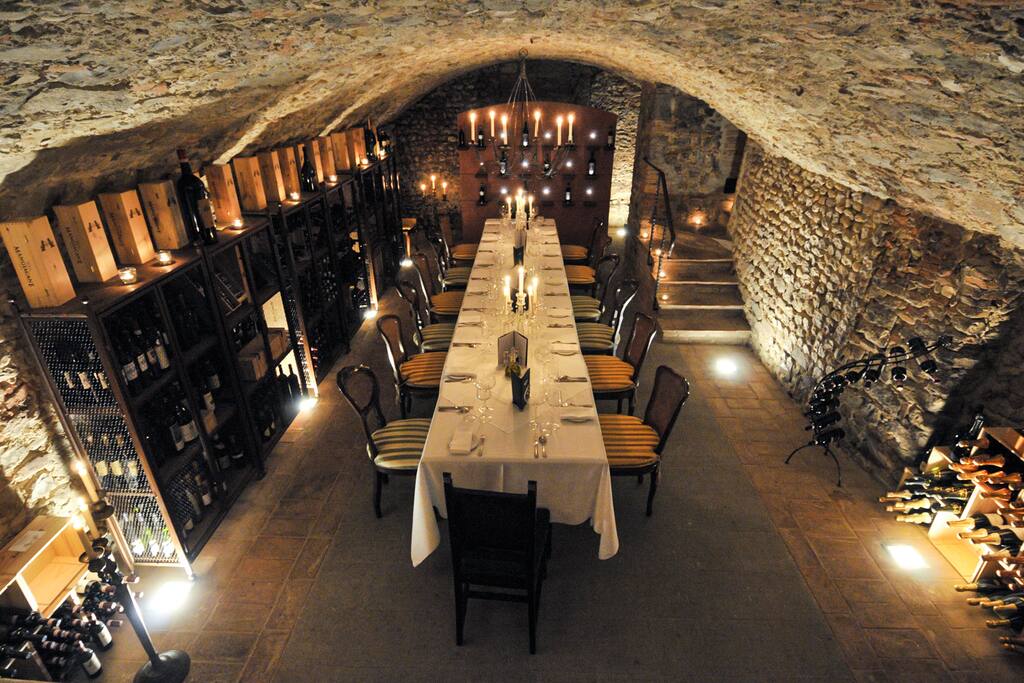 Villa Machiavelli
FLORENCE, ITALY
Just 20 minutes outside Florence in the Chianti Classico region, the recently restored 16th-century villa combines splendid Renaissance architecture and interiors with 21st century luxuries, topped off with panoramic views of the countryside. The villa accommodates up to twenty guests, but larger groups can rent the separate vineyard villa for more space.
You'll feel like Italian nobility at the fully staffed villa, formerly the home of the Machiavelli and Mazzei families. Drive in or use the helipad and explore the vineyards, olive groves and forest on the estate. Work up a sweat in the gym and cool off in the outdoor pool. For entertainment, there's a piano, satellite TV and Wi-Fi access; for comfort, there's air conditioning and an elevator.
Prices start from £5,846 per night from Airbnb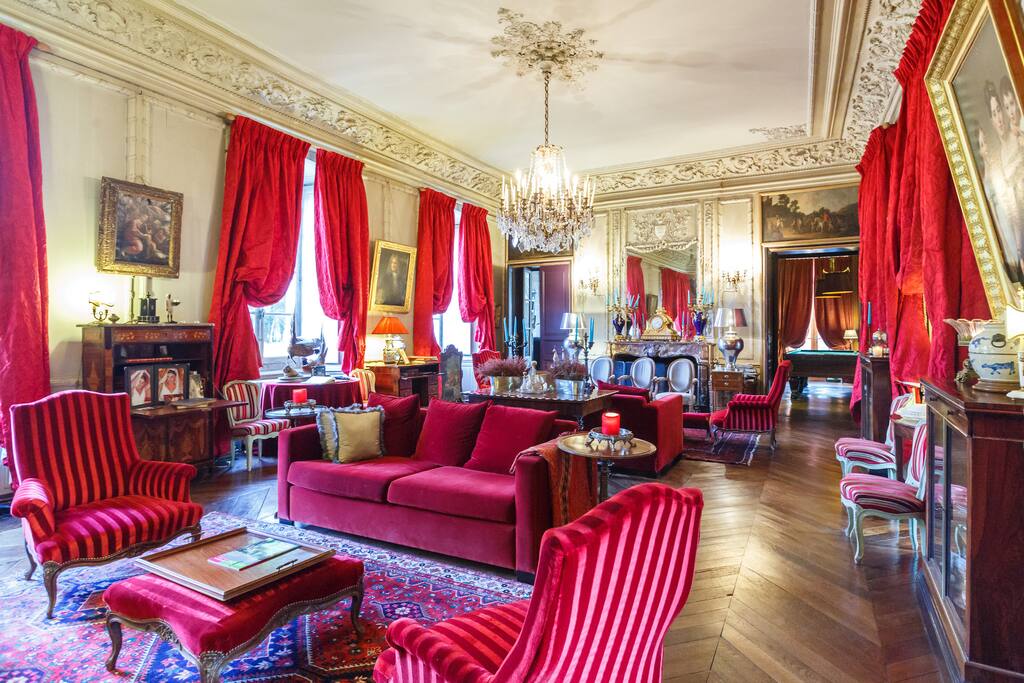 Private Chateau
LOIRE VALLEY, FRANCE
This castle is still in possession by the Sami Family for more than 6 generations.
There's a giant swimming pool, acres of land and interiors covered in the most decadent wallpaper and fabric, while accommodation is fit for 32 persons (17 bedrooms + 15 bathrooms). In the park, you'll find a short tennis court, golf at 4 km, children's games and bicycles.
Prices start from £7,618 per night from Airbnb