"We were attracted to bespoke tailoring because it's the pinnacle of what garment construction can achieve."  Kimberley Lawton and Joshua Dobrik are taking London's bespoke scene by storm. The Sybarite spoke with the founders of Dobrik and Lawton on how they got started in tailoring, their favourite bespoke piece and what the future holds for them.
Tell our readers a little bit about yourself.
We are both Savile Row trained cutters. That is to say we specialize in creating the geometry of a suit and drawing the shapes of the panels needed to achieve perfect fit in a garment. Along our journey into the trade, we both also learnt how to make the garments we design and cut, allowing us full creative freedom over the pieces we make.
Where did your love from fashion and tailoring come from?
Our love for tailoring and fashion came from the heydays of Hollywood cinema and its magnificent wardrobe departments. People like Adrian Greenberg, Irene Lentz and Edith Head are designers and craftspeople we look up to for their immense skills in both garment construction and design
Later on, many designers such as Thierry Mugler and Claude Montana drew upon their ideas of strong silhouette  – most notably those of Greenberg's – and we love these later interpretations of the same ethos as well.
How did the idea of starting Dobrik & Lawton come about?
We wanted to combine handcraft skills and fashion influences, which in Paris is de rigeur, but here in London not so much. Tailoring has typically trailed behind where style is concerned, staying true to its traditions, and we wanted to try and create a house within which we could give a contemporary feel to our suiting without ever compromising on the world-renowned sewing skills the west-end garment trade is famous for.
Dobrik and Lawton is quite different aesthetic to old- school Savile Row, where does the inspiration come in your approach to tailoring?
Our ideas stem from the silver screen as mentioned previously, the peacock revolution and current changes of attitude in fashion. We have been heavily influenced by the London scene of the late 60's and early 70's, where tailoring was arguably at its boldest with lapels and trouser bottoms competing to be as wide as they possibly could, and much like what we are seeing again today, there was a shift in what men and women were wearing, a blurring of gender norms in clothing. We find effeminacy in men and virility in women appealing and our clothes reflect these thoughts in a variety ways.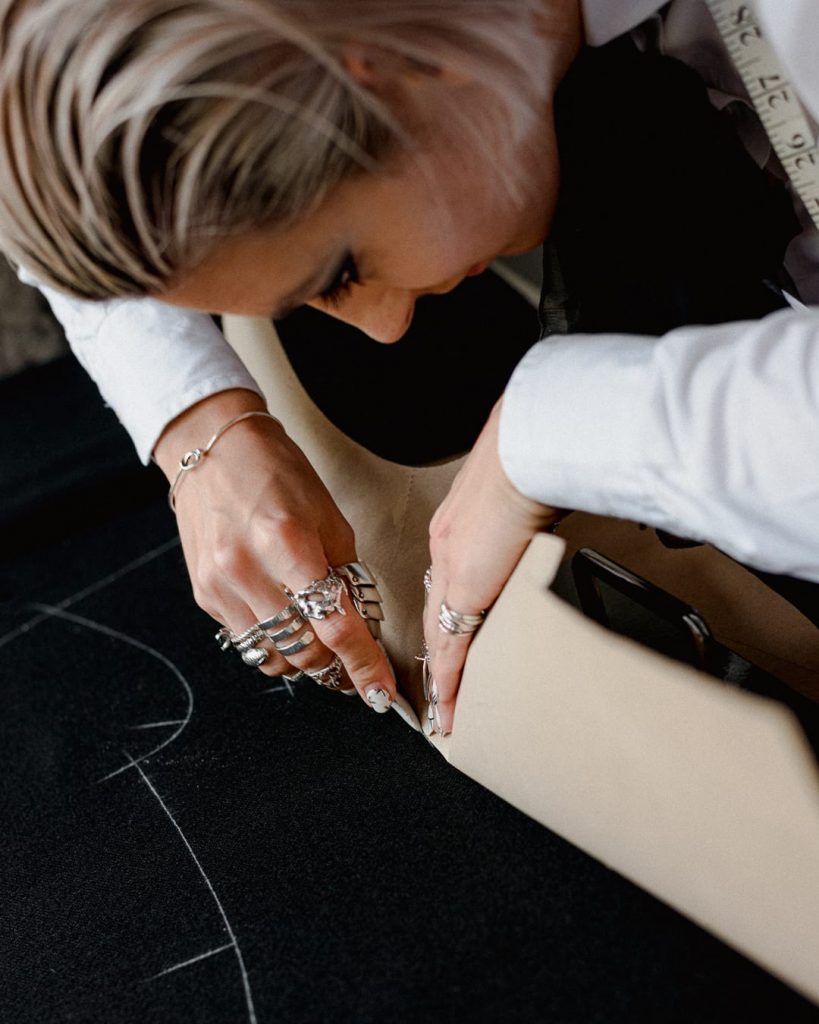 A bespoke garment is a luxury item for life. What attracted you to do bespoke tailoring? Do you have a preference when designing a bespoke piece?
We were attracted to bespoke tailoring because it's the pinnacle of what garment construction can achieve. A suit is the most technically challenging "everyday" item of clothing one can make, and if we learned how to master it, the skills we learned could easily be transferred onto other garments .
Who would you love to dress?
Daphne Guinness, Kraftwerk, Bianca Jagger, Don Cornelius.
How has the pandemic affected your business and how have you managed to adapt?
We were severely impacted by the pandemic, and it took a great deal of adapting in order to stay afloat. We're a young company, having set up only 3 years ago, and had it not been for the support of patrons who consider handcraft garmenting as an important cultural heritage, things would have been far trickier to say the least. Since Lockdown, we have been in the process of creating a made-to-order online shop where we will offer a variety of styles of garments for which one will be able to choose cloth, measures and style details. Our aim here is to create a collection of ready made garments that reflect our bespoke garments in style, but that aren't restrained by blocks that only fit idealistic bodies.
How has it been working for the NHS and Charity organizations during the pandemic?
When the first lockdown was implemented, hearing about how the NHS was struggling with the incessant wave of patients was frightening. So when the news broke about the lack of PPE, we suddenly realised that our skills could help. We got together with a large group of local sewers and began making scrubs. Phoning retirement homes and hospitals and hearing how grateful people were to receive a batch of garments was equally scary and gratifying, it was shocking to discover such a shortage in medical supplies, but witnessing how communities could come together to organize themselves in order to lend a helping hand was beautiful.
What does the future hold for Dobrik and Lawton?
More sewing, a little growth, but most crucially continued enjoyment for what we are doing.