"I remember the endless rolling hills and the winding road through the mountain. There were a lot of playing in the mist of clouds, jungles and mountains," says Natalie Tangsakul about her hometown of Chiangrai in Northern Thailand. She talks about how her grandparents fled communist China, fought the Communist army in Thailand in order to finally plant their roots at the top of a mountain in a Chinese army settlement area. "We have numerous nationalities, languages, and a strong sense of multiculturalism in the area—Southern Chinese, Myanmar, Shan, Thai, Tai Yai, Tai Leu, and other tribal people," she explains. Tangsakul is the founder of Talad, her regional Thai food concept that has pivoted from a restaurant to an Asian deli in Chelsea with dishes and kitchen must-haves that are available for pick-up or delivery. 
Though cooking was something she only got into as a teenager, it was the longing for the familiar flavours from home that fuelled her passion and desire to share that with her new home in the UK. "There were a lot of long distance phone calls—before iPhone and Facetime existed—with with family and friends which helped with the cooking immensely," she shares. We speak to Tangsakul about the special characteristics of her beloved Northern Thai cuisine and also learn her favourite recipe for Hung Le curry.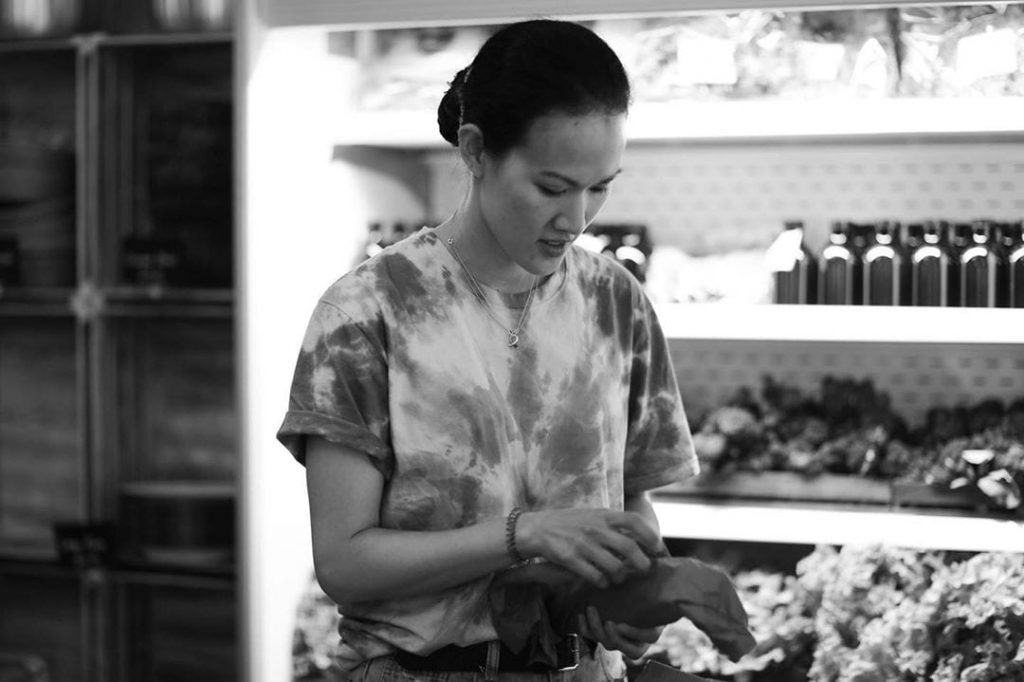 What are some of the characteristics that are unique to Northern Thai food?
Tua Nao or fermented soybean is a unique ingredient to the Northern Thai cuisine. Before the railway connected the North to the Southern province, the area was landlocked with no access to the sea, which is why the original recipes of Northern Thai food do not use shrimp paste like the rest of the country. Instead, we use fermented soybean which is similar to natto from Japan. The dried round ones are typically found in Northern Thai households as one of the cupboard staples. Another characteristic is the lack of coconut milk in the curries and soups, as coconut trees don't grow well in mountainous areas. 
It's never easy to pivot your business, especially when it's due to a completely unforeseen situation. How did you restructure your game plan and what advice would you give to others who are in the same position?
I think we are lucky in a sense that we are small and nimble, so we could recreate and change things around quickly. But it was not easy as everything was much more expensive, logistics were almost impossible, and being a startup, it made it even harder. The first thing I did was I went back to the drawing board and really thought about different elements of the hospitality industry and had to think outside the box. The biggest question was how could we leverage our existing resources and make the best out of a horrible situation. There were always things that I wanted to do at a later stage that got pushed up earlier such as the Talad at home business line. We had to re-negotiate the deal with the landlord and change everything from the store layout, interiors, construction, operation, etc. It was tough and stressful, but it has been such a once in a lifetime experience. In terms of advice for others in the same position, try to conserve cash and spend as little as possible so you can ride through the hard times and be ready for the rainbow to come.
What's the one ingredient you could never live without?
Probably fermented fish sauce ("plara" in Thai) or fish sauce. I love strong tastes and ingredients that go a long way. Just a dash of these, and it can add depth to any dish.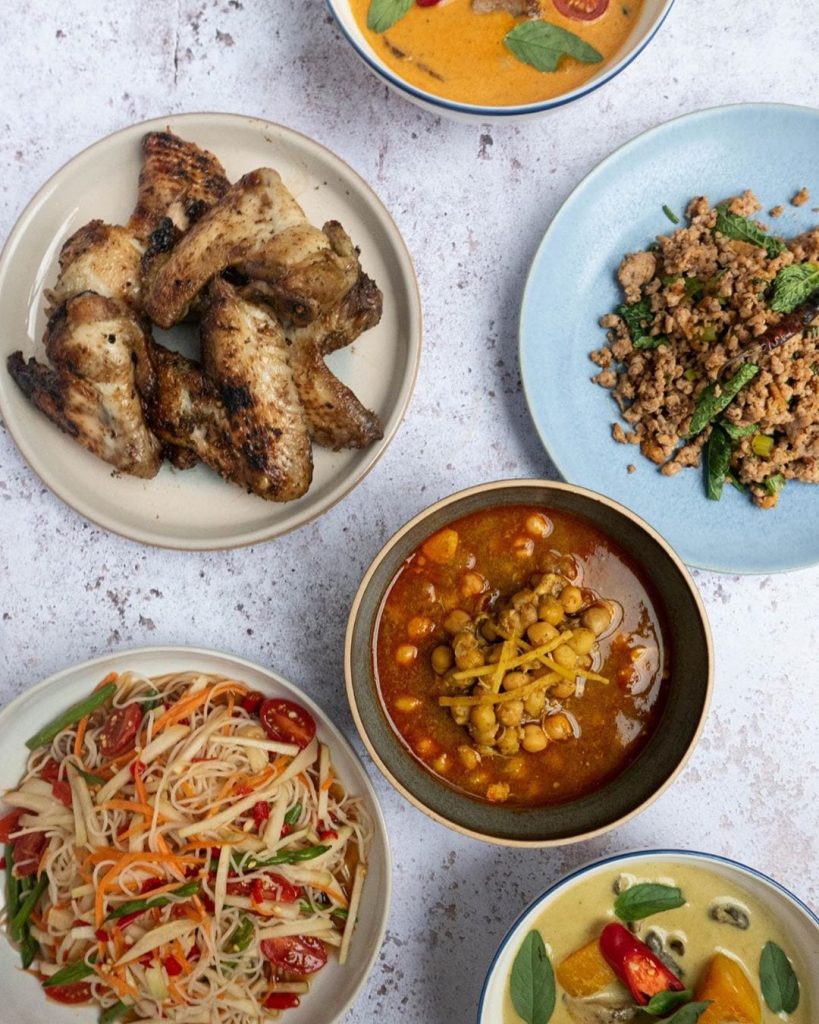 Is there a food trend that you wish would just go away?
Pineapple on pizza and overly sweet, processed food. That really bugs me.  
It seems like lockdown has turned everyone into a home cook. What's one easy Northern Thai recipe you'd recommend a new customer try and which staples can they pick up at the deli?
Hung Le curry is a beautiful stew. It is hearty and versatile, rich and comforting. It can be made easily using the paste that we make at the store. Marinade your protein—chicken, pork, beef or veg if plant-based—with the paste overnight with garlic and big knobs of ginger. The next day, you can cook it on the stove, add extra stock, and season with tamarind paste, soy sauce and palm sugar. Add extra slices of matchstick ginger as a final garnish.
From our deli, we have a daily changing menu. There is always a hearty curry or grilled meat as well as seasonal salads. We do mean papaya salads with different vegetables and fruits that are really tasty, refreshing, and colourful. Expect something that will wow you.
What were some of the most helpful learnings you took from your time at Rosa's Thai?
There are so many lessons, to be honest. Lots of work hard and play hard, but mostly about culture and teamwork. The structure of work can set you free if there is a system that you can really drill into the team and the culture of the business.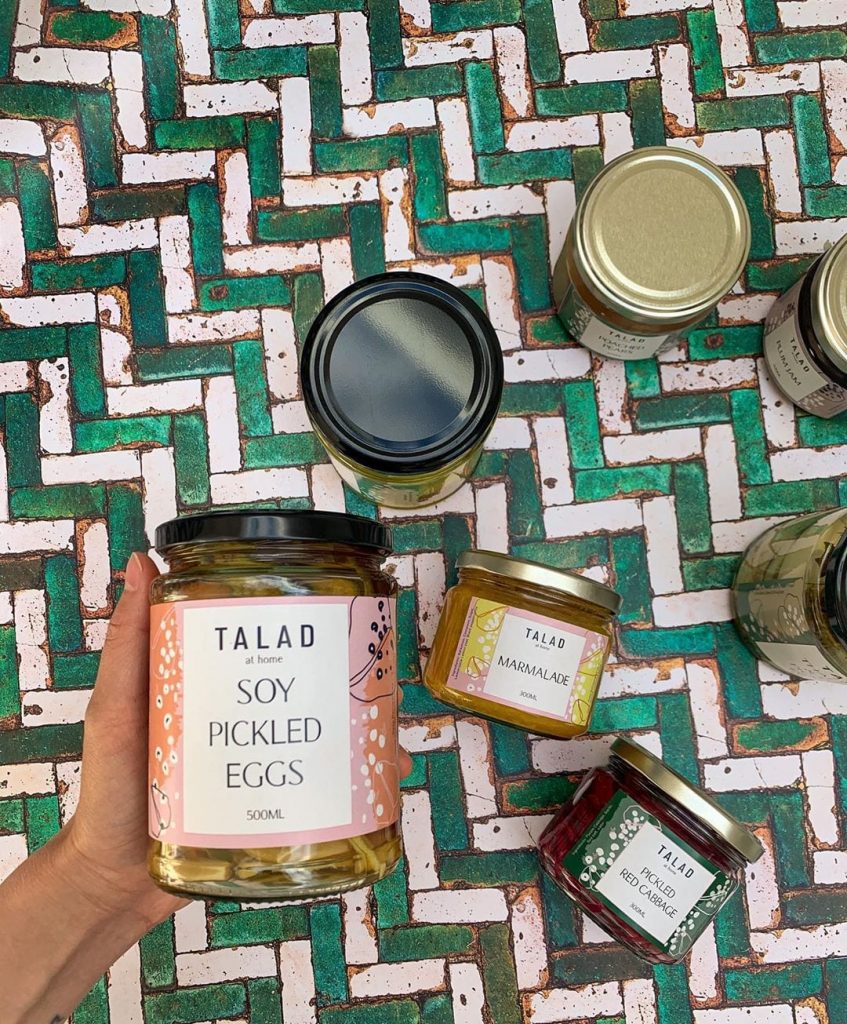 You're having friends over for dinner tonight. What's on the table?
Some sort of grilled meat or seafood as a centre piece. I love a simple marinade of garlic, coriander stems, black peppercorn and soy sauce with a dash of turmeric on prawns or chicken thigh. A curry or soup like Gaeng Om (spicy Isaan soup) if I'm feeling like having really tasty food. Lanna Bolognese as a sort of salsa or sauce makes everything taste better with fresh salads. 
Once lockdown ends, what's the first restaurant you're making a booking at?
So many…where do I start…Kolomba, Black Axe Mangal, Pide, Sadaf.
Talad Eatery
Address: 533 Kings Road, Chelsea, London, SW19 0TZ (entrance on Lots Road) 
Phone: 020 7351 6969
Website: https://taladeatery.com/