This year hasn't exactly been one for the books, but amongst all the uncertainty, we have been forced to adapt and change ourselves for the better. Some may think this requires spiritual change, others political, but for quite a few of us, it's good to start small – and what small change does every woman require when going through a fraught emotional time? You're correct, dear reader –the hair! This is exactly the philosophy our resident beauty journalist has applied to her once brassy, home-dyed (thank you lockdown) locks. Turning to the prestigious hair-gods of Mayfair for help, Ozzie Rizzo helped to transform her into a platinum bombshell. 
If you're looking to transform your hairstyle and colour then look no further than Ozzie Rizzo; founded by a creative force in the industry for more than 25 years, Ozzie Rizzo alongside brothers Tony and Ricci, founded the Sanrizz Group of Salons synonymous with Italian fashion. Having achieved incredible success within the Fashion and Hair Industry through his association with Sanrizz, Ozzie has taken the decision to re-invent himself by re-naming his Mayfair Salon 'Ozzie Rizzo', which remains as a division of the Sanrizz group. Trained alongside Vidal Sassoon and Trevor Sorbie, Ozzie became the youngest ever Art Director at 21 years old for arguably the world's most groundbreaking Hair Salon Groups, during hairdressings most avant-garde and hedonistic phase.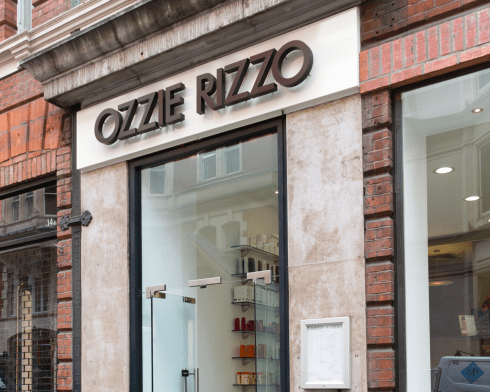 Ozzie's talent and creative vision can still be seen through the windows of his Mayfair salon, as does his determination to exceed client expectations. Upon entering the salon, you are greeted by his warm and friendly smile – it's incredible how he is still so personable to clients even with the weight of his name. While you're offered a cup of tea or coffee, the stylist will go through your expectations of hair colour; if you're going down the bleach route, we're told 'don't wash your hair the night before or morning of the appointment, as this can cause scalp irritation, and the natural oils of your hair actually help to protect your scalp from harsh bleaches.' So with that in mind, we began the long process of transformation.

Because I had quite dry ends and long roots, we began with bleaching the roots first, then slowly making the way down the strands of hair to cover the yellow, brassy tones. It's easier to lift the roots as it's virgin hair and body heat helps to process the colour, while previously coloured hair is a lot tricker. After this is rinsed out, my stylist Natasha used a purple hued toner over my hair and then a moisture treatment along with a rather lovely head massage. After trying not to fall asleep, I sat in the chair for my blow dry and hotly anticipated what the final look was going to be – we decided on a 50's roller hair style (note to self: must make dinner reservations after getting hair done to show it off next time!) et voila! I had the hair of my dreams! My yellow brassy tones from my lockdown dye job had vanished and I was left with shiny, bouncy, healthy hair. The whole process took around five hours but it didn't feel like much time at all! Especially because Ozzie himself nipped out to get me a Pret lunch (honestly, how divine is this man!), so with my new platinum blonde hair, I bounced out the door and into the new world, checking myself out in the store windows of Mayfair whenever possible.
Ozzie Rizzo, 14 Hay Hill, London, W1J 8NR, 020 7495 8070
https://ozzierizzo.com/