Nestled in the heart of Central London in lovely Marylebone, lies a perfect new hidden gem: The Pop-up Summer Terrace at The Churchill. This gorgeous and nautical-inspired terrace can be found inside of the luxurious Hyatt Regency London – The Churchill Hotel, and is well worth a visit.
Overlooking leafy Portman Square, the Montagu Alfresco Terrace will transport you to the refined British seaside marina, with their offering of the finest quality fresh seafood, lighter bites and an exquisite range of cocktails.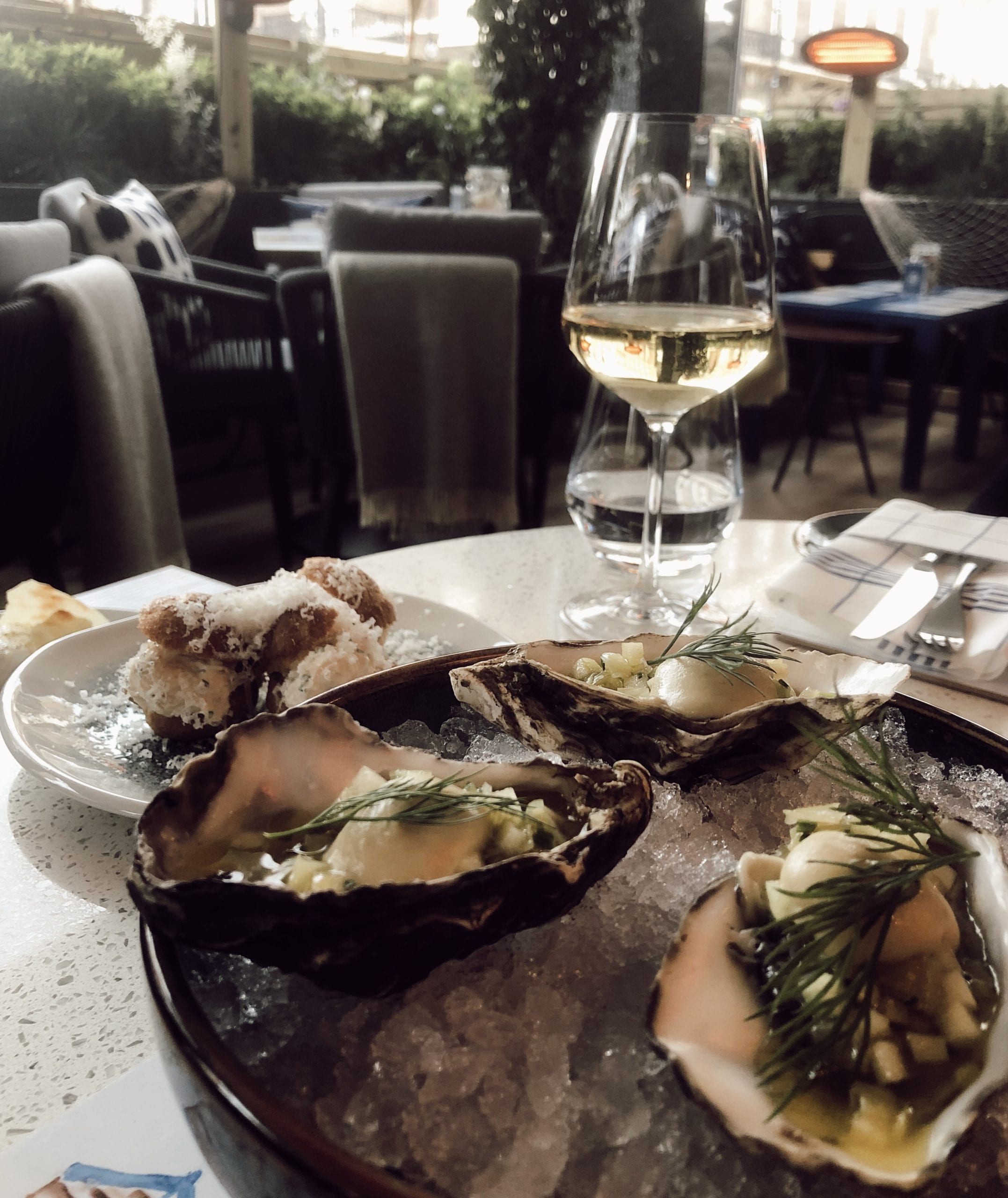 The Sybarite had the pleasure of visiting the secluded outdoor terrace in its first week of London terraces re-opening, and the harbour-like hideaway in Marylebone with their wide selection of delicious dishes warmed our hearts (and our taste buds).
Upon approaching the terrace, we were surprised by the decoration framing the doorway, a big 'Welcome on Board'' frame inviting you to step inside to the exciting seaside marina environment. We stepped onto the Pop-up Summer Terrace at The Churchill and instantly felt transported to the English coast. White, blue and vivid tones coloured the terrace from the tables to decorative ornaments such as anchors, shells, oak barrels.. making it modern, bright and really elegant. 
The terrace was absolutely stringent on health and safety measures from the very first moment that we arrived, providing us with wipes, gel and everything that we needed. We were greeted by the lovely Marta, who kindly seated us at our table and took very good care of us during our lunch. I was a little bit concerned about the weather – but although London isn't known for its alfresco dining, the terrace did not disappoint, it had blankets and roasty heaters to keep us warm! 
The menu is varied yet still really exciting. It offers an a la carte menu strongly focused on finest quality fresh seafood. As a seafood lover, I wanted to eat just about everything the menu had to offer. 
Before taking our orders, Marta attentively guided us through the menu, giving us every little detail of each dish as well as the recommendations of the chef, Roger Olsson. For starters, we already knew exactly what we wanted and so we ordered a trio of iced Whitstable Oysters with apple, black pepper, leek and chive and their little pieces of heaven (trust me, they are!) of Cornish Crab Choux covered with parmesan cheese. We were also treated with an extra starter, which was the English Burrata. Exquisite! 
To accompany our food, we ordered a bottle of white wine, more precisely the Alvarinho, Conde Villar from Portugal. They have an extensive selection of wines but I'd definitely order the same one when I return to the restaurant. It was really fresh, had a lovely sweetness of peaches followed by a note of lemon to finish. A perfect accompaniment to our meal. 
For our main course we ordered their signature dish, the Lobster and Fries seasoned with garlic, rosemary, charred lemon and a light rose mayonnaise.The lobster was succulent and cooked to perfection, really meaty. We were also treated again with an extra main course, their Barbecued Octopus with watercress, radish and onion. For me, this was a wonderful recommendation and absolutely the most vibrant of their dishes. Just like the lobster, it was cooked to perfection, really firm and not too chewy, full of flavour. An absolute favourite.
Finally, to end our lunch, we were given an English classic dessert: Eton Mess. This dessert is simple and delicious. Everything that combines crunchy meringue, cream and strawberry syrup is a must. As we were really comfortable and did not want to leave yet, we ordered coffee and tea to round off our lovely lunch. 
But that wasn't it, the lovely Olga, Director of Sales and Marketing, gave us a private tour through the Hyatt Regency London – The Churchill Hotel. A place that offers first-class hospitality to its guests from the very first moment you step in. The Hotel itself is a tribute to the Prime Minister Winston Churchill as it is the only hotel in London that maintains a relationship with The Churchill family. An outstanding place to visit whether you are looking to stay the night or have a fine-dining experience.
Without a shadow of a doubt, we have now added the Pop-up Summer Terrace at The Churchill to our list of favourite places to make the most of alfresco dining and the upcoming summer in London. All in all, the Pop-up Summer Terrace at The Churchill is a beautiful restaurant located in an unbeatable area and the perfect place to enjoy high-quality fresh seafood, with a great atmosphere and impeccable service to enjoy with your loved ones.