Winter holidays have a glamour all of their own. Perhaps it's the adreneline rush of swishing through perfect powdery snows, the apres ski boozing or curling up in front of the fire with friends and family after a long day, we just can't wait to jet off for ski season.
Whether you're in the process of finding your ski legs or are a seasoned skiing professional, we've rounded up five fabulous resorts for the winter 2016-17 season. 
Obergurgl, Austria
Attempting to select the best ski resort in Austria is akin to pick the cutest puppy in a labrador litter, but Obergurgl – thanks to its winning combination of unspoilt scenery, a traditional Tirolean atmosphere and the friendly intimate nature of the village – arguably gets our vote.
What's more, snow is always guaranteed in the 'diamond of the Alps' partly due to the resort's impressive height (between 2,000-3000m) and the presence of a snow cannon (one of the most comprehensive artificial systems in the Alps).
Chances are that you'll arrive in Obergurgl determined to spend every second on the slopes. However a stop at Nederhütte – Obergurgl's best apres ski spot for DJs and dancing – will no doubt change your mind. You could easily spend hours at Nederhütte  – and many do – sipping cocktails and soaking up the stunning mountain scenery and atmosphere, before heading back down the mountain for dinner.
It's hard to think of a better way to top off another day on the slopes than by tucking into delicious Austrian dishes such as Wiener schnitzel, Spaetzle and apple strudel – all washed down a crisp glass of wine – at restaurants like Hohe Mut Alm or Hotel Edleweiss & Gurgl.
Zermatt, Switzerland
It's a bold boast but Zermatt is easily the prettiest mountain resort in Switzerland. Don't believe us? The legendary triangular Swiss chocolate bar brand, Toblerone, chose to put Zermatt's Matterhorn – aka the world's most photogenic mountain – on its packs, as did Evian. And for good reason: the Matterhorn – all 12,000ft of it – will cause even the most seasoned skier's jaw to drop.
The iconic Matterhorn aside, Zermatt also boasts snow sure slopes from November to April, 350km of pistes facing all aspects, an efficient lift system and world-class restaurants – be sure to seek out Schwyzer Stubli. This traditional Swiss restaurant specialises in fondue and folk music and makes for a memorable night out…
There is no bad time to visit Zermatt but February is arguably the most fabulous month. This is when the Swatch Skiers' Cup and the Luttman Johnson Memorial Race – two Instagram-worthy events – take place.

Whistler, Canada
Whistler is top of most snow bunnies' bucket list. Regularly voted the number 1 ski resort in USA and Canada, Whistler – which last year celebrated its 150th anniversary – has spent over $2.4 million on renovations for the upcoming winter season. Improvements include terrain grading in the Olympic Zone to optimise learning for new skiers and snowboarders, and the installation of two new covered carpet lifts to help eliminate congestion to name but a few.
Beyond the slopes, there's a staggering array of restaurants in which to enjoy  North American staples: think steak ribs and wings, washed down with beer ensuring a lively, apes ski scene.
Chamonix Mont-Blanc, France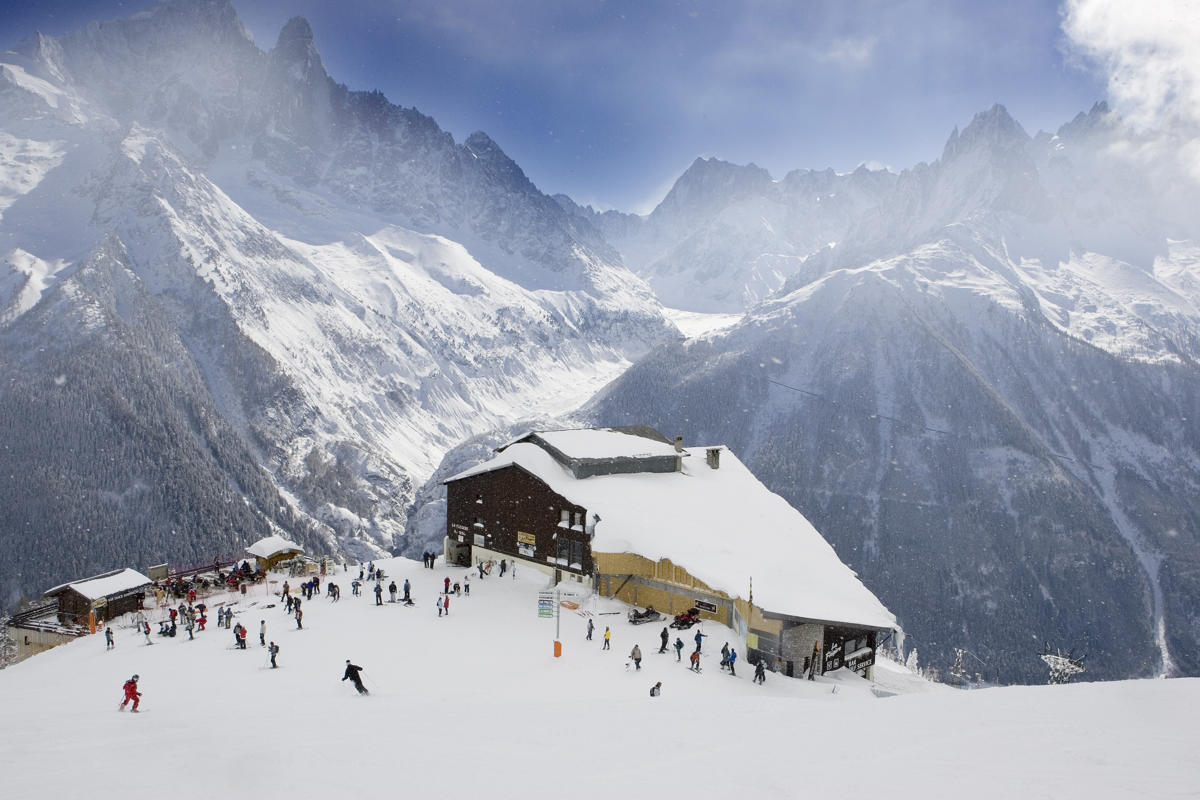 Chamonix – or Cham as the resort is affectionally dubbed – shot to fame in  1924 when it hosted the inaugural Winter Olympics and offers first class skiing and snowboarding for every ability from beginners to aficionados. The latter will love the Vallee Blanche – the most famous off-piste run in the world – and the array of ski runs that boast a vertical elevation of more than 2,000m. Regardless of which run you opt for, expect to be slaloming against the backdrop of the majestic Mont Blanc, which at 4,810m, is the highest mountain in the Alps.
When hunger pangs kick in, the top mountain restaurant is the Argentine run La Tanière. Sybarites can look forward to superior Argentine steaks served with South American wine by gorgeous waiting staff.
Ready to let your hair down? Make for Monkey Bar in Chamonix Sud, where ski boots are invariably replaced with dancing shoes before kicking onto Cantina Club, off Rue Joseph Vallot. But be warned: clubs like Cantina only close when the last customer has left, so prepare yourself for some long, long nights.
Lastly, Chamonix is located only an hour from Geneva airport making it a popular weekend skiing destination. Friday sickie anyone? 
Limone Piemonte, Italy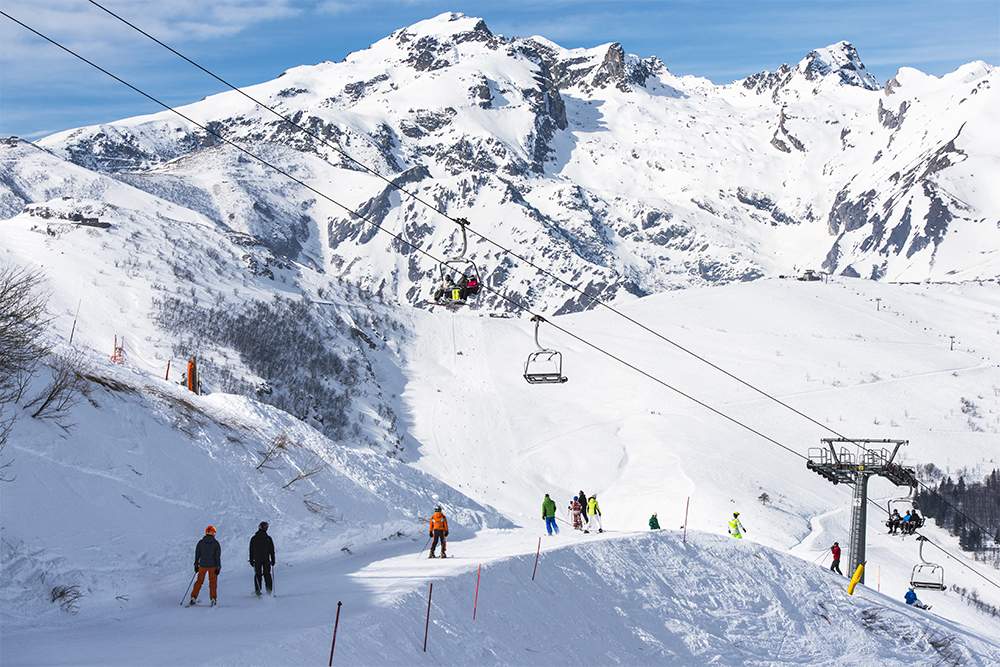 Never heard of it? Prepare for that to change. Located approximately 90-minutes drive south of Turin, Limone Piemonte may be late out of the tourism starting gate and doesn't attract the constant influx of skiers that Courchevel and Cortina do, but it's one worth acquainting yourself with if you want character and local charm.
A good night's sleep at the Grand Palais Excelsior – a gorgeous alpine resort that runs like clockwork  – will see you awake ready to hit the slopes each day, breaking only for polenta and Prosecco at Rifugio Ristorante Il Rosso.
Limone Piemonte is undoubtably a quieter ski resort than the those mentioned above, yet that is arguably the attraction of the place. Stand out restaurants include Il San Pietro, with its excellent wine list and Osteria Le Stalle restaurant. If you find Limone Piemonte a tad too peaceful, the city of  Turin – with its wide selection of elegant shops, buzzy bars, and the famous Turin Shroud – is within easy day-tripping distance.