2016 has proven to be a fantastic year for luxury hospitality. With this in mind, we've collated a list of the most exciting hotels and resorts across the world that are about to open their doors. Ranging from cosmopolitan cities to exotic destination getaways, we have the most enticing new hotels list curated just for you – time to pack your bags!
Amanemu, Ise Shima National Park, Japan
Opening: August 2016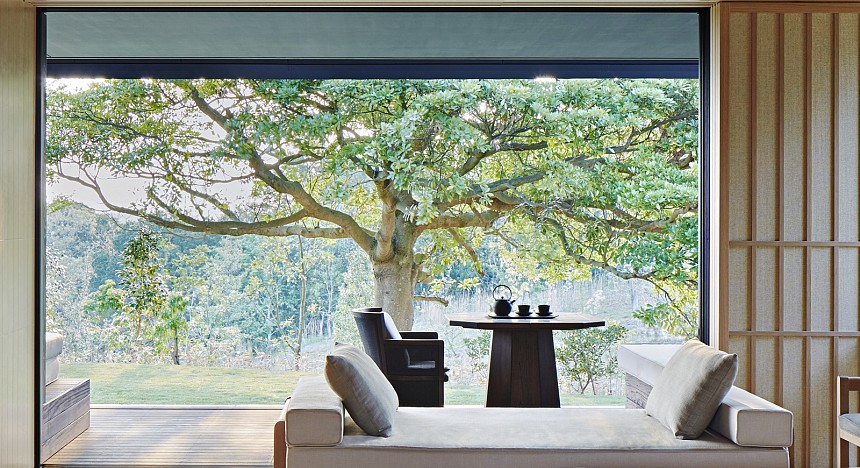 Aman Resorts have opened their second property in central Japan: Amanemu. This beautiful hot spring resort contains 24 suites and four two-bedroomed villas, all of which have their own onsen, as well as an extensive Aman Spa, a lap pool, restaurant and lounge. Pipped to be one of Japan's best luxury beach resorts and hotels, Amanemu is situated in Shima, in Honshu's Mie Prefecture. The resort's location also benefits from a nearby high-speed rail network, transporting guests to Japan's vibrant epicentre, Tokyo. Additionally, the city of Nagoya is only a scenic two-hour train journey or 25-minute helicopter ride from the resort.
The Ritz, Paris
Re-opened: March 2016
After four years of meticulous revamping, this historic hotel has finally reopened its doors to the public. The 117 year-old hotel has overhauled its rooms, suites, bathrooms (now to include separate baths, tubs and heated floors), gardens and L'Espadon restaurant (now directed by chef Nicholas Sale). The revered Bar Hemingway, however, remains largely untouched. The Ritz Club houses a neoclassical swimming pool and the world's first Chanel spa to revel in the unique sensorial and customized experience.
Meghauli Serai Lodge, Nepal
Opened: April 2016 
Safari getaways have stepped up a notch at Meghauli Serai. Situated in the world heritage listed Chitwan National Park, the resort is Taj Safari's first lodge outside of India. Located by the Rapti river, guests staying in one of the 30 rooms and suites can experience stunning views of the national park across the river. In addition to this, the lodge offers 16 independent villas, each with their own private pools. Definitely one for the wild at heart who wishes to experience everything the exotic nature of Nepal has to offer.

Zemi Beach House, Anguilla
Opened: February 2016
This exquisite resort is situated along Shoal Bay beach, named best beach in the world by The Discovery Channel. Guests can escape to one of the world's most exclusive islands and relax in one of the 63 rooms and suites, each with spectacular views overlooking Caribbean sea.
Jeff Goldstein – Zemi beach's developer – designed the resort so that it would embody the warmth of his childhood holiday memories. The superb integrated amenities and curated service team provides an unforgettable experience for international guests.
St Regis Langkawi, Malaysia
Opened: April 2016
The St. Regis in Langkawi is changing the game for the island's luxury resorts. This is the group's first expansion in Malaysia, and it features 85 suites and 4 water villas, each with a magnificent view of the Malacca strait. As if the region's rich heritage and refined sophistication isn't enough, the group is launching their membership loyalty program, Starwood Preferred Guest (SPG), offering bespoke services to attract  the affluent global customer. Langkawi is aiming to become the world's latest luxury nautical holiday destination.
The Beekman, New York
Opening: August 2016
Although Downtown Manhattan will be flooded with several high profile hotel launches before Christmas, The Beekman is arguably the most anticipated new addition. Originally built in 1883, the historic landmark is being brought back to life thanks to a magical rejuvenation.  A 287-room, $350 million property, The Beekman is adjacent to the World Trade Center and surrounded by the central business district. To cater to the city's discerning diners, the hotel's gourmet restaurant Fowler & Wells will be headed by critically acclaimed chef Tom Colicchio. Additonally, there will be a brasserie-style restaurant, Augustine, directed by celebrity chef Keith McNally.

Secrets Resort and Wellness Retreat Lombok, Indonesia
Opening: December 2016
7 Secrets Resort and Wellness Retreat opens just before Christmas this year, just in time for you to pop off for a luxury tropical getaway and celebrate the New Year in the sun. The resort is located on a white-sand beach on Lombok island. Lombok has been well developed for tourists, and is the home of the country's second-highest volcano, Gunung Rinjani. The resort has managed to retain exclusivity whilst offering its guests easy access to the most break-taking parts of the island, and features 24 exquisite rooms, in which contemporary interiors are blended seamlessly with authentic Indonesian architectural design. Indulge yourself in your private Jacuzzi, pamper yourself in the deluxe spa, or wile away the afternoon, with a cocktail, pool-side. For supper, feast on imaginative Michelin-starred cuisine, at a table overlooking the shore.
The Toranj Marine, Iran
Opened: February 2016
Iran's growing beach holiday industry has encouraged the opening of 125 hotels in 2016 alone. The Torenj Marine Hotel, its first overwater villa resort, is located on Kish Island in the Persian Gulf; allowing non-nationals to visit without visa restrictions. The stunning resort offers 100 suites and an immaculate glass-floored restaurant. Tourists heading to the hills may visit the Salar Dareh hotel next to the mighty Alborz mountain range. This Swiss chalet style resort has 54 rooms, a swimming pool and basketball court.
By Jassie Tseng