For some Sybarites, it's the construction of the Christmas tree which signals that the countdown to Christmas has officially begun. For others, it is the sound of carols being sung or the smell of mince pies and mulled wine wafting in the air… However here at Sybarite HQ, it's getting our skates on at an outdoor ice rink that signals Christmas is just around the corner.
There is nothing quite like the allure of ice skating: gliding gracefully (well, some of us) around the rink in pristine, white boots (or blue plastic if you don't have your own).
Where else can you fling your arms around a strange member of the opposite sex? What's more, such behaviour is not only inevitable, it's the norm: the accepted and established code of conduct when it comes to Christmas skating.
Wondering where to find the world's most magical ice rinks? Here's the low-down on some of the planet's coolest skating spots…(attractive strangers not guaranteed).
Somerset House (London, UK)
Easily London's most beautiful rink, Somerset House's (main photo above) fairytale setting can't be beaten: the beautiful 18th-century courtyard space is illuminated at night by special lighting. Back by popular demand are Somerset House's exclusive club nights meaning that on certain evenings you can slide across the winter rink to sets from top international DJs long into the night. When you've had enough icy action, relax over a hot chocolate or mulled wine at Fortnum's Lodge or the Skate Lounge, before grabbing some last minute Christmas gifts at the pop up Fortnum's Christmas Arcade.
Natural History Museum Ice Rink (London, UK)
Staying in the British capital, Somerset House faces stiff competition in the shape of the National History Museum Ice Rink. Set against the backdrop of the Waterhouse building, the Ice Rink at the Natural History Museum is one of the most magical places to be this winter. Experience the thrill of skating surrounded by fairy lights nestled in frost-covered trees, with the smell of mulled wine and toasted marshmallows in the air. Whether you can dance on ice like Torvill and Dean, or you skate more like Bambi, a visit to the Museum's Ice Rink is guaranteed to get you in the festive spirit this Yuletide.
The Rideau Canal (Ottawa, Canada)
Most tourists tend to rush past Ottawa when in the Canadian province of Ontario over Christmas. More fool them for Canada's capital is an enchanting city that, according to Guinness World Records no less, also boasts the world's largest naturally frozen ice rink at around the size of 90 Olympic-sized hockey rinks! The 200km long historic Rideau Canal – which connects Kingston with Ottawa and was Canada's 14th location to be named a UNESCO national historic site back in June 2007 – becomes the Rideau Canal Skateway. Glide your way past Canada's Parliament Buildings plus the majestic Chateau Laurier Hotel.
Vienna Ice Dream (Vienna, Austria)
With its winding cobbled streets and imperial palaces, Vienna is one of the most beautiful capital cities in Europe. It's also one that takes Christmas seriously – from the 'Christmas in Vienna' Concert (an annual gala event featuring world class singers performing traditional Christmas songs) and the Freyung Christmas Market to the array of charming alfresco skating rinks that crop up all across the Austrian capital every winter. Our favourite Austrian skating destination is Vienna Dream – a 6,000 square meter ice rink that's set up between the Vienna Konzerthaus and the Inter-Continental Hotel. Skates can be hired for just a few Euros, while Austrian food and drink can be purchased from the booths situated in the park that surrounds the rink.
Red Square Rink, Moscow (Russia)
Want to go skating at the foot of the Kremlin walls? Make for Moscow's Red Square rink which spans an impressive 32,000 square feet and covers one-quarter of the historic square. Red Square has become arguably the symbol of winter in Moscow as it affords punters to skate while savouring views of the Spasskaya Tower, St. Basil's Cathedral and, of course, the Kremlin. The rink is typically open until 12 midnight daily throughout the festive season so you'll have ample time to soak up the special, seasonal atmosphere (or pick up a few souvenirs from the adjacent GUM Christmas fair).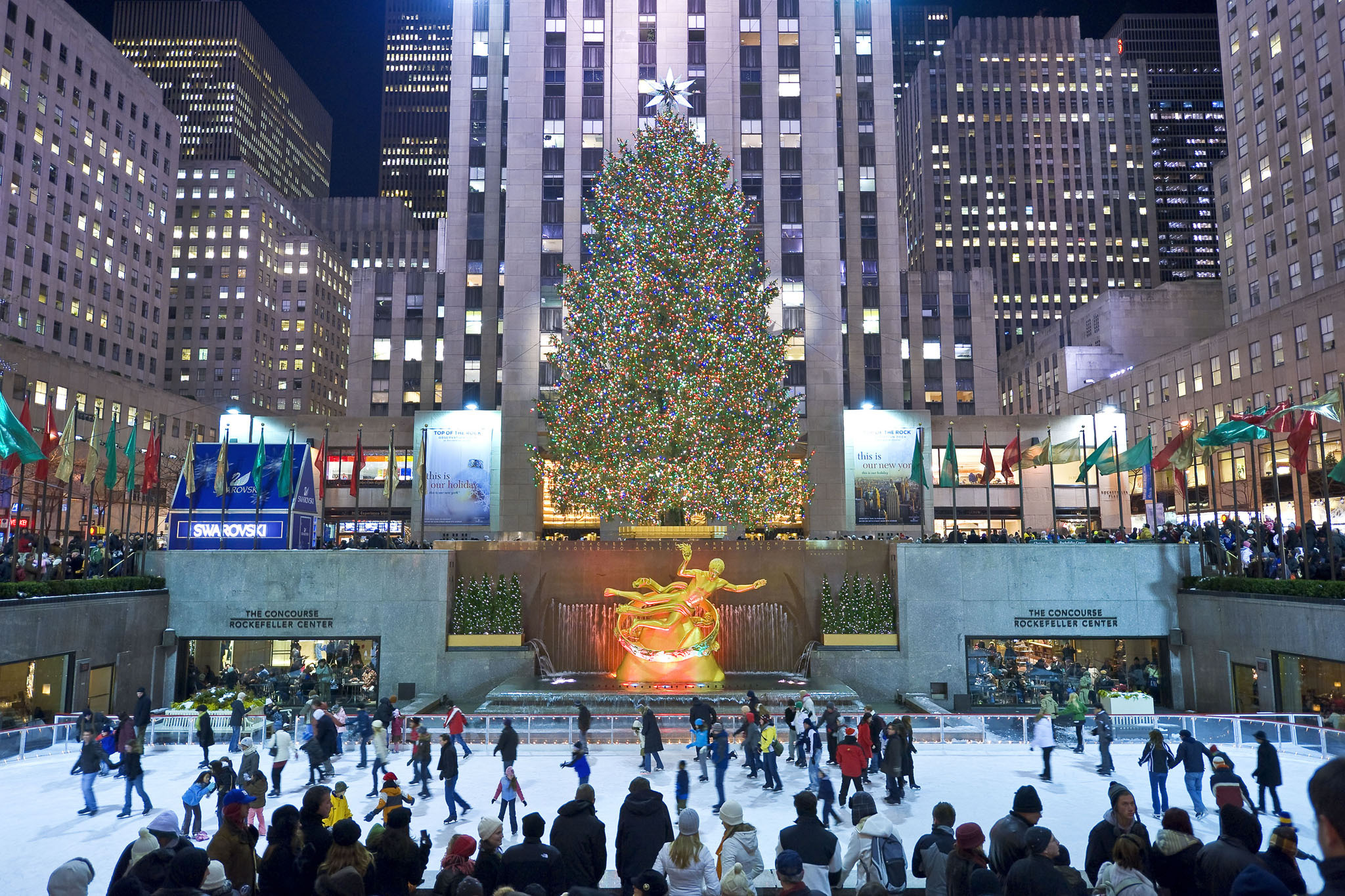 Rockefeller Ice Rink (New York City, USA)
Skating at Rockefeller is a classic New York Christmas experience – this, after all, is the rink that was famously featured in films such as Sleepless in Seattle, Home Alone 2: Lost in New York, Elf and many more. Each winter, New Yorkers and out of owners alike lace up their skates and twirl away around the iconic Christmas tree at The Rink at Rockefeller Center which, this year, is celebrating its 80th anniversary season on Saturday. And with room for only 150 skaters at a time, it is as intimate an experience as it is incredible. Time to get your skates on.
Shichahai (Beijing, China)
Want to visit somewhere new rather than the same place you've been to every year since you were five, this winter? The Sybarite salutes you (for we're of the opinion that travelling is all about new experiences) and has a suggestion: step forward Beijing. Sure China's capital is darn cold in December, but it can also be an utterly magical time to visit the Imperial city: think steamy hot pot feasts, the opportunity to see a snow-capped Great Wall sans tonnes of fellow tourists and… ice-skating on Shichahai lake. The latter is easily the most fun of all Beijing's traditional wintery pastimes: join Beijingers whizzing about on ice bikes and skates or watch all the fun from the banks.