Every week, The Sybarite collates its pick of the hottest luxury lifestyle news into bite-size chunks. In this week's edition, we cover St. James's Place Academy's fourth annual women in business event, the most luxurious neighbourhood in London, Cartier's Christmas advert and the opening of the Palazzo Versace Dubai.
St. James's Place Academy announces fourth annual women in business event – Inspiring Women
St. James's Place Academy, the training and development arm of the FTSE100 wealth management company, will be hosting its successful women in business event for the fourth year running. Taking place on 23rd November, the event will provide attendees with an opportunity to meet Academy graduates who now lead their own successful businesses, and also to learn about what the wealth management programme entails.
Adrian Batchelor, Academy Director at St. James's Place Academy (pictured) commented: "For those considering a career change, this event is the perfect opportunity to ask questions, and meet graduates who were grappling with a similar decision not so long ago."
Sign up for the event here.
Mayfair Becomes London's 'Top Luxury Neighbourhood'
With only 5,000 residents inhabiting the 70 streets of Mayfair, the neighbourhood retains a perennially exclusive vibe. For a basic flat in the area, you're looking at around £1 million, whilst the average home is £4.8 million. A five bedroom mews house in the heart of Mayfair goes for around £18million according to Wetherall, the renowned Mayfair estate agency.
The increase in house prices by 188% in the past decade is due to the influx of foreign money pouring into Mayfair. With 60% of its residents born overseas, Wetherall predicts that this will shift to a 50-50 buying percentage, swinging back to British buyers in the coming years.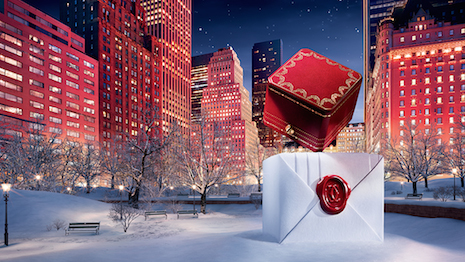 The 2016 edition of the famous French jeweller's traditional "Winter Tale" features a glowing red panther darting through the streets of New York and Paris, illuminating landmarks as it moves on its journey. This enchanted advert equates Cartier gifting with magic and features a selection of gifts, including fine jewellery from its Cactus de Cartier, Amulette de Cartier and Trinity de Cartier collections.
Palazzo Versace Dubai Opens In Couture Fashion
Italian fashion label Versace is marking the opening of its Dubai, United Arab Emirates resort in couture fashion.
To celebrate the grand reveal of Palazzo Versace Dubai, the brand is bringing its couture collection from Paris to the city for the first time, giving local clientele the opportunity to view the collection and meet with its atelier team for private appointments, with a portion of the price of orders going to charity.
The five-star, 215 room resort's architecture is meant to evoke a 16th-century Italian palace with Arabian touches.