Earlier this year, many of us rolled up our sleeves and attempted to recreate our favourite cravings at home. Though there were many loafs of banana bread and cups of Dalgona coffee, it became clear that the complex flavours and that missing "it" factor were too difficult to replicate. Over the past few months, many chefs and restaurant owners developed crafty ways to bring special dining experiences into the homes of their beloved customers whilst allowing them to get in on the action. Now that restrictions are lifting, by all means, go out and support your favourite dining spots, but if you're finding yourself at home and wanting to test your culinary skills, here are the top DIY and finish-at-home meal kits from some of the country's most beloved restaurants for a high-end meal you can enjoy in your pyjamas. 
Made in Oldstead
If you're pining for a taste of the north, chef Tommy Banks of Michelin-starred The Black Swan in Oldstead and Roots in York has just what you need. He and his team have concocted a first-class offering in the shape of three and five-course menus that celebrate local, seasonal produce from the family farm and selected suppliers. All boxes come with instructions for warming up, cooking, and assembling each dish. A true highlight for special occasions is The Signature Box, which includes a bottle of paired wine and some of Banks' most popular dishes such as the beef wellington with prime salt-aged beef and a mushroom duxelle with duck fat potato rosti, Chantenary carrots, and Oldstead greens. 
Order online: https://tommybanks.co.uk/product-category/foodbox/
Stein's at Home
Though located in one of the few areas that are moving into the much-coveted Tier 1, Cornwall legends Rick and Jack Stein are sharing the love across the country with their new Stein's at Home range. Whilst everything is lovingly prepared by the team in Cornwall, each box includes recipe cards with cooking instructions for home chefs. Each order is good for two diners and includes a starter, main, and dessert. Choose from a variety of boxes featuring a highlighted ingredient: hake, coq au Riesling, sea bass, Indonesian curry, steak, or lobster. There is also the option to add a bottle of wine to your order paired by the group's Wine and Drinks Director. 
Order online: https://www.rickstein.com/steins-at-home/ 
& Home by James Knappett
Though his two-star Michelin restaurant Kitchen Table is currently closed for renovations, chef James Knappett has not stayed idle. & Home by James Knappett brings the premium Kitchen Table experience to your home, complete with champagne and wines selected by his partner Sandia Chang. The 7- and 11-course tasting menus were designed to be accessible, and customers are given detailed tips for finishing and plating at home. Enjoy the same quality of ingredients that you would get at the restaurant with dishes like the famous crispy chicken skin with rosemary-infused mascarpone and bacon jam; homemade salt-baked celeriac ravioli in a 36-month-aged Parmesan sauce with shaved chestnuts, sherry vinegar, caramel, brown butter, chervil, and Autumn truffles; and the Kitchen Table white chocolate and Tahitian vanilla fudge.
Order online: https://jamesknappett.com/
Wild Radish
Have you tried different recipe kits but feel like you're still making meals that are far too simple? Enter Wild Radish. Created in partnership with some of the UK's top chefs, Wild Radish is the brainchild of Anthea Stephenson (ex-River Café and Polpetto) and entrepreneur James Bhardwaj. It's not just about ingredients like truffles and exotic spices, but regular produce and proteins are sourced from top notch suppliers like Natoora, Turner & George, and James Knight of Mayfair. Cook from scratch like a pro with recipes and easy-to-follow tutorials developed by the country's top chefs, many with Michelin-starred restaurants, like Richard Galli of The Goring Hotel, Philip Howard of Elystan Street, and Alyn Williams who recently left The Westbury after eight years. Sample menus include caramelised Devonshire pollock with spiced cauliflower, Marcona almonds, Brussel tops, and garlic buttermilk; hasselback butternut squash with sage salsa verde, radicchio salad, burnt clementine dressing and maple-glazed chestnuts; or fried venison haunch with black bean, chocolate and Urga chilli puree, clementine relish, and purple sprouting broccoli. Paired wine is also available.
Order online: https://wild-radish.co.uk/
Lyle's Provisions
Fresh from the kitchen of Michelin-starred Lyle's in East London comes Lyle's Provisions. With the goal of bringing their ethos of seasonal, ethical, and sustainable cooking into the homes of the everyday cook, their meal kits introduce new flavours and ingredients to spark a sense of discovery. All boxes come with a menu, ingredient checklist, recipe cards, and a photograph to help you plate things up perfectly. Get your tastebuds dancing with dishes like 14-week-hung Dexter rib and slow-cooked beetroot; raw scallops and blood orange vinaigrette; Jerusalem artichokes, ceps, and Vin Jaune sauce; and brown butter cakes. Aside from the menu boxes, a Mince Pie kit and Provisions Boxes are also available. Low-intervention wine can be paired with every box and allergens are also clearly listed out.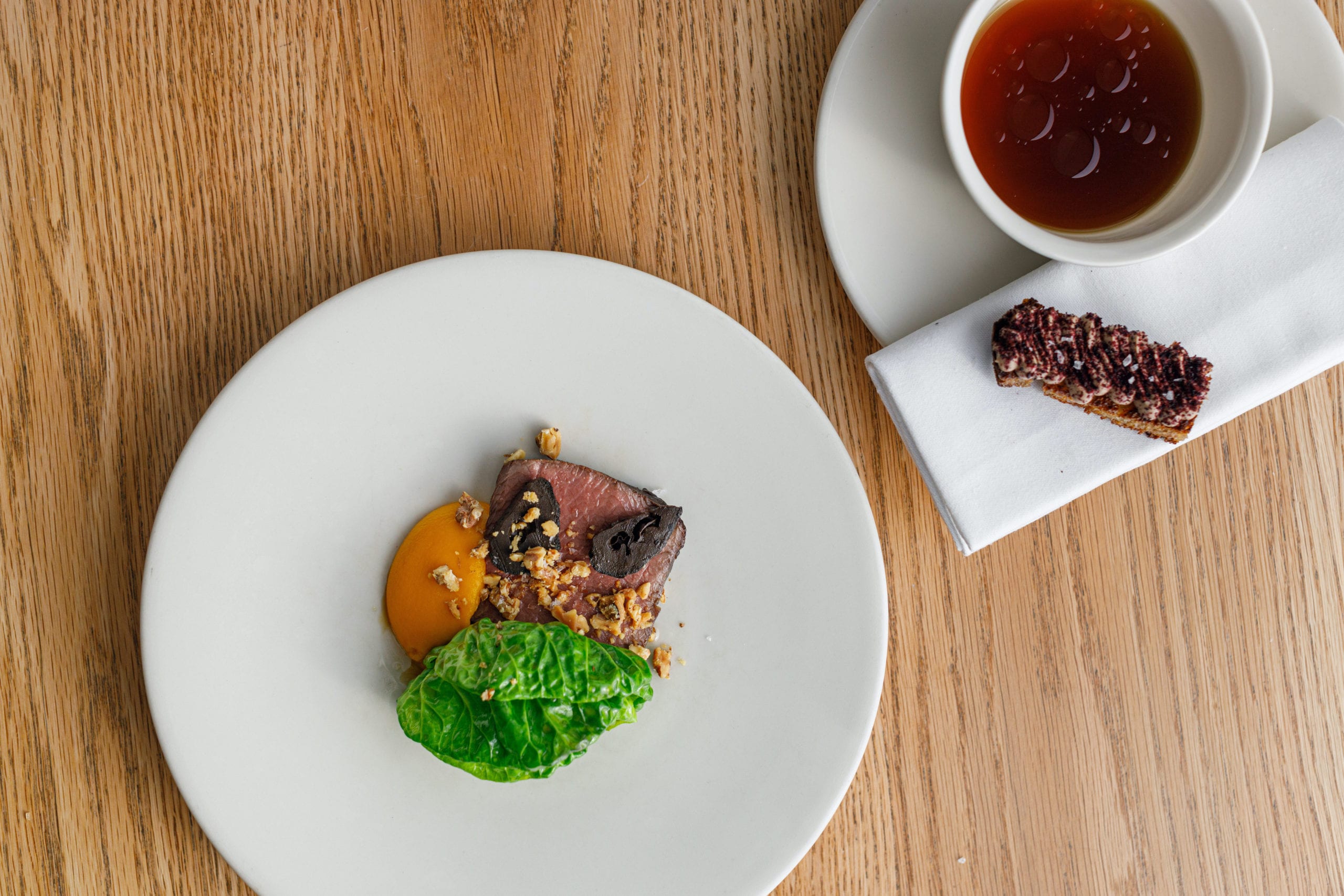 Order online: https://www.lyleslondon.com/journal/lyles-provisions
Quo Vadis at Home
If you can't make your way over to its iconic spot on Dean Street, fret not! Soho legend Quo Vadis has launched a new "finish-at-home" offering that features chef Jeremy Lee's delicious regional British recipes, and yes, you can have a negroni too! You'll have your choice of bites, starters, mains, sides, and desserts with options such as cured salmon, pickled cucumbers, mustard, and dill; turkey and bacon pie; Winter vegetable cannelloni with parmesan and herbs; and an almond tart with custard, berries, and cream. 
Order online: https://quovadis.bignight.app/