Don't wait until summer to escape. For a memorable winter getaway, escape 
to one of the following destinations – all of which are hotter than that 
Christmas jumper you'll be wearing throughout the festive season…
The Philippines -situated as it is on the far side of the South China Sea – is often overlooked by other travellers, meaning it's easier to get that 'off the beaten track' feeling that's nearly impossible to achieve in many South East Asian countries. Particularly if you're staying on the private island of Amanpulo. If you want to relax, restore, recharge the battery and clear out the brain clutter, then Amanpulo is the answer.
This remote 1.5mile-long haven in the middle of the Philippines only ever accommodates a maximum of 12 people at time. Right now, the only way to reach Amanpulo is by private plane (you can bring your own or the hotel can arrange the 70-minute flight for you).  
Accommodation consists of rooms, or 'casitas' as they are affectionally called which work out at around $1,600 per night. For that, you'll get your own "guest assistant" who has only one goal – to leave you with a smile – plus huge beds, hot tubs, hammocks, decks and outdoor showers. Alternatively check into a private villa – also available to purchase for approximately US$6.2million – all of which come with private beach access.
Looking for somewhere to sleep in the city that never sleeps? For the perfect blend of style and substance check into Hotel Gansevoort. Entering the glamorous Gansevoort – named for a nearby Dutch-christened street – with its zinc coloured panels is like entering a fairytale, only this story doesn't have a happy ending: you have to check out. This popular oasis in the Meatpacking District boasts 187 rooms spread out across 14 floors.
All bedrooms are kitted out with Flat-screen TVs, DVD players and complimentary Wi-Fi connection and feature a colour palette of neutrals and greys with a shot of blackberry. Light and airy, the generous sized rooms afford arresting views of the Empire State Building to the north and the Hudson River to the west. The real must see, however, is the hotel's heated rooftop swimming pool (with underwater music!) and Plunge bar. People watching here is among the best, so do make the effort and dress up. Downstairs the hotel has a Japanese restaurant, a 4,300 square foot full-service spa and onsite fitness room amongst other amenities. In short, if luxury and glitz are what you're after, you'll want for nothing at this chic, urban retreat.
Wondering where to holiday this Yuletide? Make like screen legend Marlon Brandon and catch a flight to French Polynesia. The cinematic heavyweight first fell in love with French Polynesia – particularly Tetiaroa –  while scouting locations for the 1962 film Mutiny on the Bounty. Indeed the Oscar winner was so enthralled by the private South Pacific atoll, that he purchased his beloved chain of islands in 1967 saying: "My mind is always soothed when I imagine myself sitting on my South Sea island at night. If I have my way, Tetiaroa will remain forever a place that reminds Tahitians of what they are and what they were centuries ago."
It was Tetiaro to which Brando retreated when he needed to escape the intensity ofHollywood and now, thanks to the opening of The Brando – aka one of French Polynesia's most exclusive resorts – back in 2014, Sybarites can enjoy a taste of the star's desert island dream. But while Brando's Tetiaro (once a retreat for Tahiti´s royal family) together with Tahiti may dominate the headlines, there's plenty more to French Polynesia.
Enviably situated within walking distance of the Champs Elysees and other Parisian icons, The Peninsula Paris has been awarded the highly coveted "Palace" (an official French government approved list of superstar hotels that exceed the five-star ranking) status – despite only opening its doors two years ago.
The epitome of Parisian chic, the palatial property offers 200 rooms, including 34 suites – five of which are equipped with private rooftop gardens boasting panoramic views of the most emblematic monuments in Paris – and three first class restaurants. Choose from Le Lobby (the place to indulge in the famous Peninsula afternoon tea), LiLi restaurant for haute Cantonese cuisine and the rooftop restaurant and terrace bar L'Oiseau Blanc. The latter is where you'll find the best in French food and wine.
However, the jewel in The Peninsula Paris' crown has to be The Peninsula Spa. Voted Best French Hotel Spa in the 2015 World Spa Awards and Best European Spa in the 2015 Villegiature Awards, this oasis of calm is completely dedicated to serenity, beauty and fitness.
It's been a tough year – think Brexit and a certain shock US Election – so it's definitely to hop on a plane to Dubai and check into a first class spa and escape from reality for a little while at least. The kingdom of bling isn't short of sensational spas but, in The Sybarite's humble opinion, Talise at Jumeriah Beach Hotel can claim spa supremacy, combining as it does zen-like serenity with delicious opulence.
The setting is otherworldly: Sybarites will reach their secluded destination via a peaceful dhow (traditional Arabic sailing boat) trip down the leafy canal. Wind your way through lush tropical gardens and the serene waterways of the Arabesque Madinat Jumeirah and allow a feeling of calmness and tranquility to engulf you. Alternatively just relax in the luxurious spa area (complete with hot and cold plunge pools, saunas and steam rooms in which you can wallow like a hippo half submerged in an African river), over a mug of heavenly hot, ginger tea and allow yourself to float away with the fairies. Pure bliss.
There are gazillion reasons why Sybarites should visit the Bahamas – arguably one of the most beautiful archipelagos on the planet – but chances are Over Yonder Cay is near the top of the list. Situated slap bang in the heart of the Bahamas' Exuma island chain, Over Yonder Cay is a stunning 72-acre private island retreat that screams luxury.
Accommodation here consists of four fabulous, individually designed villas – which can comfortably sleep up-to 28 guests. All are equipped with 40" TVs, a Kaleidoscope entertainment library and Crestron control system – as well as WiFi internet and iPads, Instagram-worthy infinity pools and jacuzzis. Assuming you decide to leave your villa, adrenaline seekers can jump on a board for kitesurfing, windsurfing, wake-boarding and waterskiing – or take a guided tour of the area on a jet-ski.
Back on dry land, budding Danny Willetts (winner of the 2016 Masters) will want to take advantage of the unique nine-hole golf course. Further sporting facilities include a flood-lit tennis court, while there's also the chance to practise yoga (there's a full-time on-site yoga teacher) cycle and hike to your heart's content.
When the neon lights and hustle and bustle of Hong Kong get too much – as they will – escape to Kee Club. Founded in 2001 by Hong Kong-based Austrian Christian Rhomberg and his wife Maria, Kee Club is a sanctuary where Sybarites can gather to eat, meet and play.
Discreetly located at Number 32 Wellington Street in the heart of central Hong Kong, The Kee Club is Hong Kong's is most exclusive private club and serves as a home away from home, where like-minded characters can meet and mingle. Sybarites can expect to be transported back to an intimate world of salon-culture.
If you're headed to Hong Kong over the festive season, be sure to dedicate  at least a day to taking in the glory of The Kee Club.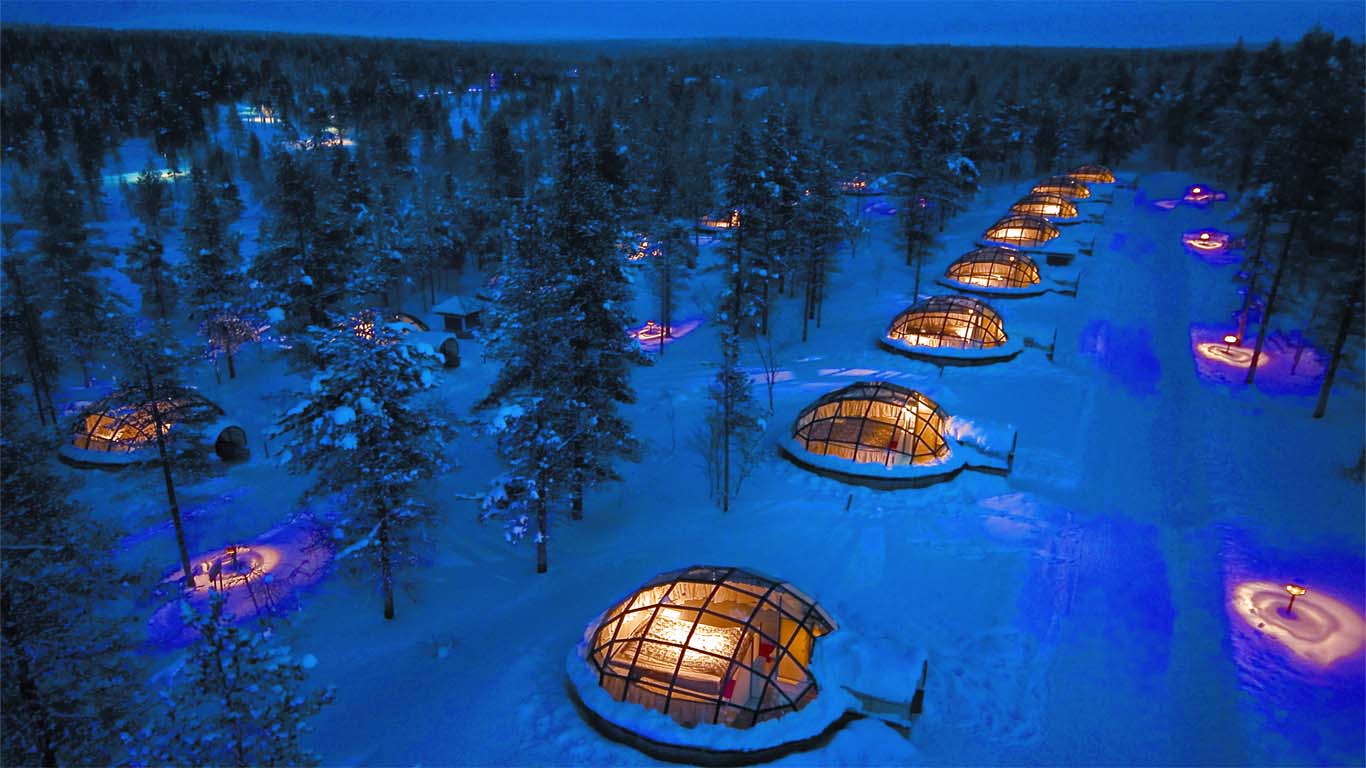 Kakslauttanen Arctic Resort, Finland
You haven't been to Kakslauttanen Arctic Resort? That's an oversight that must be righted. Located 250km  north of the Arctic Circle in Finnish Lapland, Kakslauttanen Arctic Resort is the world's leading premium arctic resort. The family run hotel – which first opened in 1973 is world-famous for its Northern Lights, arctic art, Midnight Sun and especially, its glass igloos. The resort's founder and owner Jussi Eiramo invented the Glass Igloos back in 1999 and since then Sybarites  have had the chance to marvel at the miracles of the Arctic Sky from their beds.
If you want to admire the magical glow of the Northern Lights, then Kakslauttanen Arctic Resort is arguably the  best place in the world to do it from.