Many of us strive to own a holiday home abroad but since the Brexit vote, buyers have been left in uncertainty whether overseas property continues to be a suitable lifestyle investment.
Now that Theresa May has triggered Article 50, the value of Sterling continues to fluctuate, which could effectively mean less brick for your buck and an increase in travel costs. Savvy property hunters may, therefore, seek safer options closer to home, putting UK holiday homes in the spotlight.
Supporting the theory that the UK is likely to see a boom in holiday rentals are the latest figures from ABTA's Holiday Habits Report 2016 in November. Key findings show that in the year of the Brexit announcement alone, domestic holidays went up by 7 percent with almost three-quarters of respondents (71%) taking a holiday in the UK. Young families with at least one child under five took the most UK holidays, with 26% taking more than four domestic holidays.
One area in the UK that has positioned itself as a key destination for buyers and holiday makers alike for decades now is The Cotswolds. This popularity is expected to continue. A designated Area of Outstanding Natural Beauty, The Cotswolds is a key tourism area thanks to its proximity to London, wide choice of leisure activities and peaceful surroundings.
Those, looking for a trusted and well-established development in the area, may pick Watermark. Nestled in the 40 square mile lake area of the Cotswold Water Park, the tranquil lakeside development is located within easy reach of the M4 and M5, only 90 minutes by car from London. Kemble station, with regular direct trains to London Paddington, is only a 10-minute drive away.
The Watermark team has witnessed continues growth in buyers and holidaymakers and it's easy to see why. With tennis courts, international class water-skiing lakes, kayaking, locally based horse riding centres, fantastic fishing spots around the lakes and excellent walking and cycling routes, homeowners and visitors are unlikely to tire of visiting the area.
Two popular property styles are The Deck House and The Super Grand Hampton. The Deck House's interior layout and modern amenities make it an ideal home away from home whilst the exterior, with its almost entirely glass frontage, contributes to the overall spacious feel of the property.
Stretching across 188sqm, buyers have the option to choose their desired plot and individually design their 3-bed (all en-suite) detached lodge, with upgrades including a hot tub on the first-floor deck or a galleried sitting area above the kitchen. Boasting vaulted ceilings, an open-plan living room and dining/kitchen area, the property presents a light and airy space for the whole family or to entertain groups. To take full advantage of the unspoilt views of the surrounding lakes and the English countryside, residents also benefit from a 24sqm super-sized roof terrace, perfect for a family BBQ. On the market for £625,000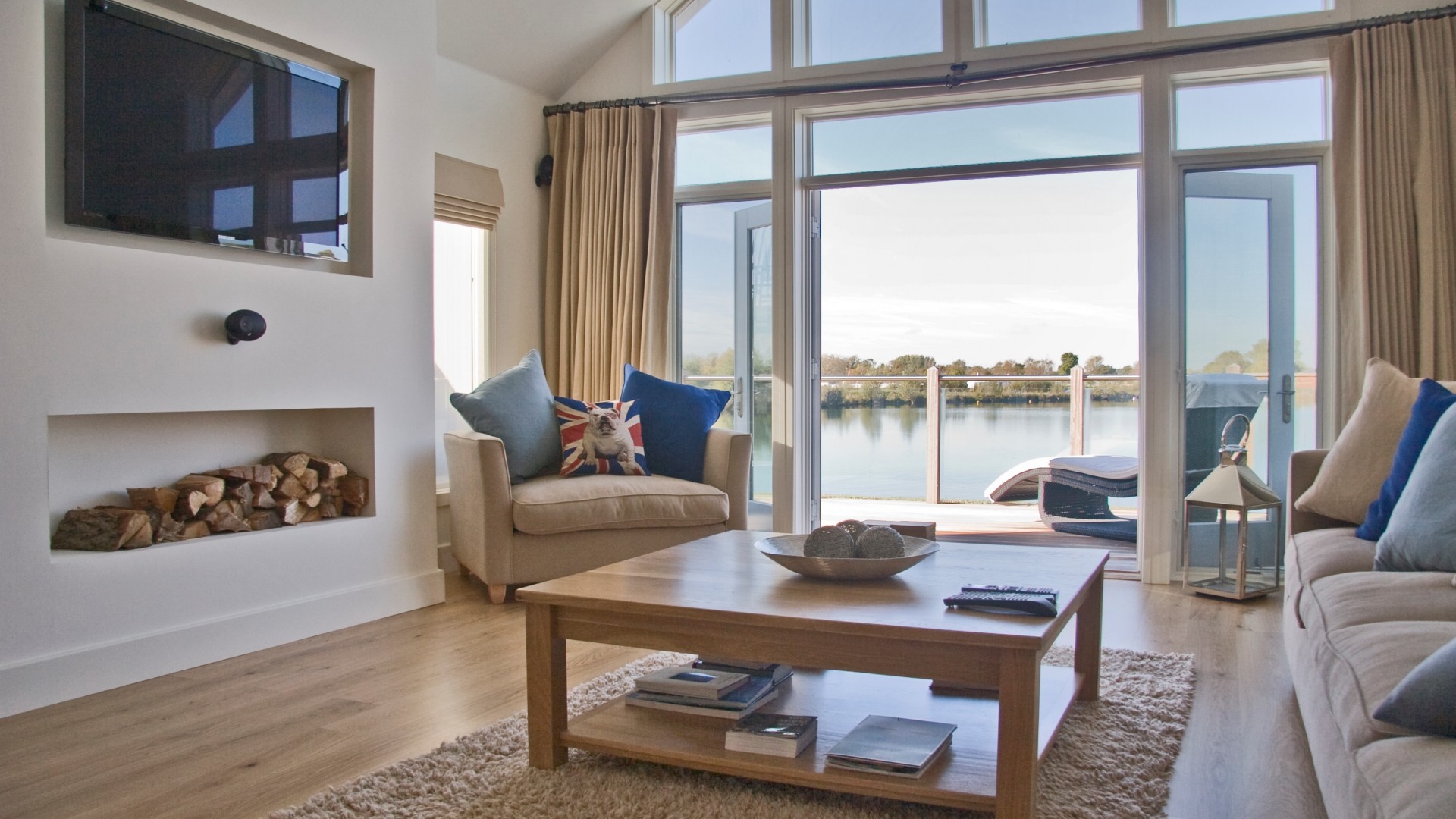 The Super Grand Hampton is an impressive 5-bedroom detached New England-style lakeside property. The 237sqm home features open plan living with vaulted ceilings and French doors leading out onto a 147sqm lakeside deck with clear glazed balustrades to the lakeside. Adjacent to the deck there is a private jetty for mooring your own small boat. All properties across the lakes are constructed using timber sourced from sustainably managed forests.  All properties are fully managed and maintained by Watermark's onsite team, and benefit from 24-hour security. On the market for £850,000