Open to the public from Saturday 13th May – Sunday 26th November 2017 at the Giardini and the Arsenale, the 57th International Venice Biennale Art Exhibition, titled VIVA ARTE VIVA, will be curated by Christine Macel and organised by La Biennale di Venezia chaired by Paolo Baratta.
The exhibition will include 86 National Participations in the historic Pavilions at the Giardini, at the Arsenale and in the historic city centre of Venice. Three countries will be participating for the first time: Antigua and Barbuda, Kiribati, Nigeria. The Italian Pavilion at the Tese delle Vergini in the Arsenale, sponsored and promoted by the Ministero dei Beni e delle Attività Culturali e del Turismo, Direzione Generale Arte e Architettura Contemporanee e Periferie Urbane, will be curated this year by Cecilia Alemani.
Take a look at our three must-see exhibition picks for the Biennale below…
Jaffa Venice Light Boxes
In partnership with The Farkash Gallery, Israeli artist Ariela Wertheimer will be making her debut at the Venice Biennale art festival. This will be the artist's first time showcasing her work at the world-renowned art exhibition in Venice.
Ariela will present her highly anticipated Jaffa Venice Light Boxes, curated by Aaron Farkash of The Farkash Gallery in Tel Aviv. The exhibition is comprised of complex light boxes, which reflect our lives, in a variety of colours with a large chandelier in the centre of the space. Each box reflects the story of a character trapped in their own small or large prison, from the past or present, with a mirror included for self-reflection.
Dapunta Hyang: Transmission Of Knowledge
Singaporean artist Zai Kuning will be presenting a multi-disciplinary work titled Dapunta Hyang: Transmission Of Knowledge, which will be comprised of a 17 meter-long ship made from rattan, beeswax and string as the exhibition's centrepiece. The project which has had various permutations exhibited at different locations such as the Esplanade, Ota Fine Arts and LASALLE College of the Arts in Singapore and Palais de Tokyo in Paris, looks at the forgotten histories of the sea people of the Riau Archipelago. The exhibit touches on the history of the pre-Islamic Srivijaya Empire and the story of Dapunta Hyang, the first Malay king. It will also include a series of photographs of living performers of the traditional dance-theatre form of Mak Yong, in collaboration with Thai photographer Wichai Juntavaro.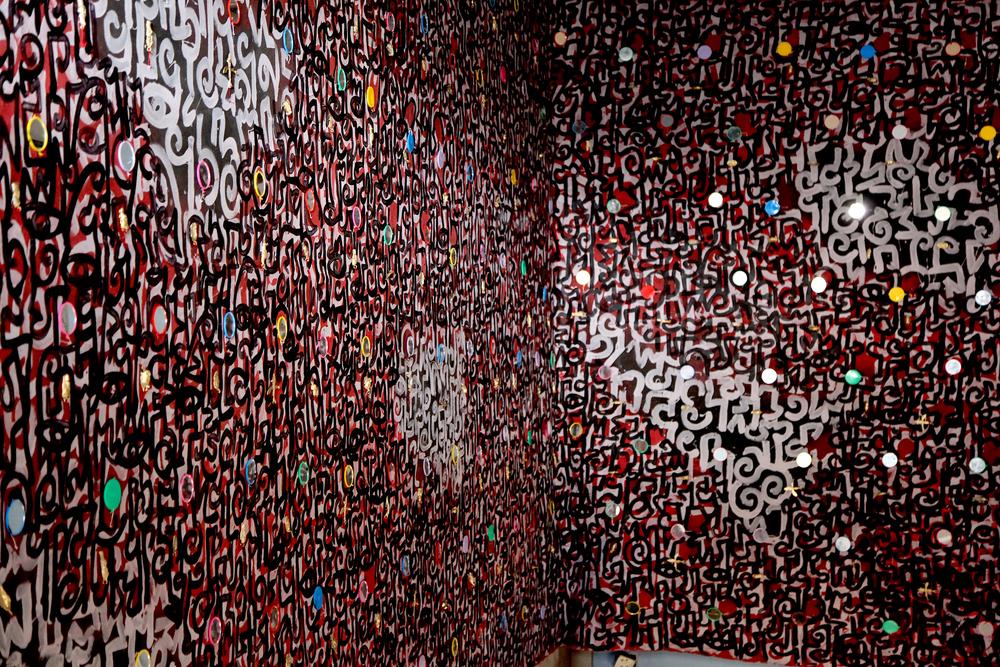 The Biography of the Forgotten
Nigerian artist, Victor Ehikhamenor, will present large-scale installations fusing abstract shapes with traditional sculpture, curated by Adenrele Sonariwo. It is informed by an investment in classical Benin art and has effects of colonialism on cultural heritage. The exhibition pays homage to those that came before us and their contributions to the art world, from the classicists to the modernists.
To find out more visit www.labiennale.org