The 89th Academy Awards took on political statements, fabulous gowns and of course, a few mishaps along the way. Here are the Sybarite's highlights of The Oscars 2017…
A number of Oscar-nominees threw their support behind the organisation who first challenged President Donald Trump's travel ban by wearing blue ribbons to the ceremony. Irish-Ethiopian star Ruth Negga, who is up for best actress for her role in Loving, was first on the red carpet and sported the political accessory on her red Valentino dress. As did Karlie Kloss on her white asymmetrical Stella McCartney gown. The blue bow represents the American Civil Liberties Union and is part of their new initiative titled Stand With ACLU. The ACLU was among the first to launch a legal challenge following President Trump's travel ban, which bars people from seven Muslim-majority countries entering America.
Best supporting actor: Mahershala Ali (Moonlight)
Mahershala Ali became the first Muslim actor to win an Oscar for role in Moonlight. Ali, a first-time nominee, played a Miami drug dealer who mentors a young boy who is being teased and bullied in the heartbreaking coming of age tale.
Best supporting actress: Viola Davis (Fences)
Viola Davis accepted the Oscar for Best Actress in a Supporting Role for her role as Rose in the film Fences, cementing her place in award show history as the first black woman to win an Oscar, Emmy, and Tony for acting—an achievement known as the "triple crown." Viola Davis wore a custom Armani Privé gown.
Best director: Damien Chazelle (La La Land)
After La La Land was wrongly announced as the winner of 'Best Picture', Director Damien Chazelle accepted his award graciously for Best Director.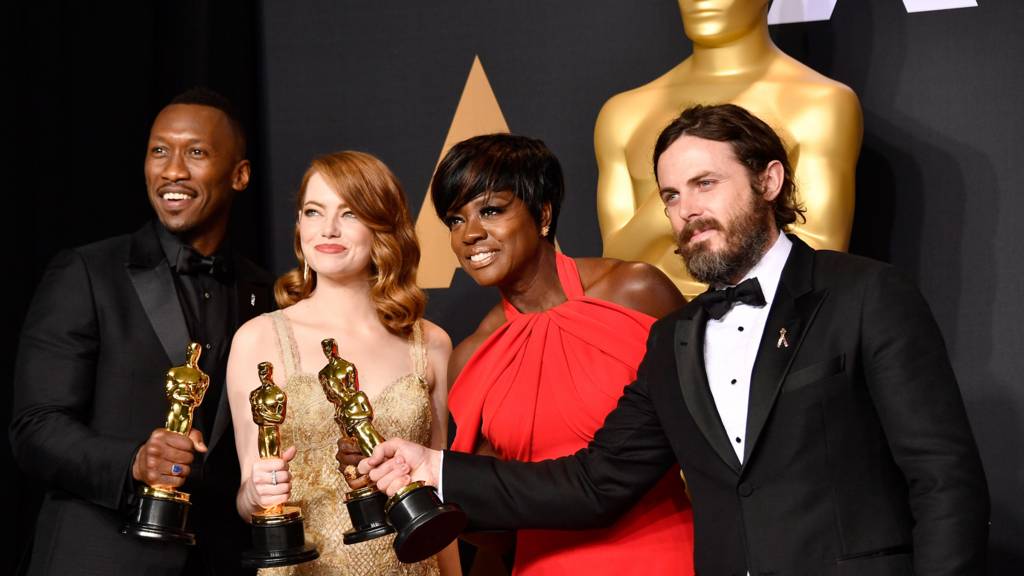 Best actor: Casey Affleck (Manchester by the Sea)Not a firm favourite in Hollywood, Affleck's past and current lawsuit allegations against some well-known female directors muddied his win last night with Brie Larson handing him the award but a solid refusal to applaud him. (Well done Brie.)
Best actress: Emma Stone (La La Land)
Despite her flaws as a professional dancer and singer, Emma Stone's acting talents and affability won everyone over at last night's awards, wearing a gold fringe Givenchy dress.
Best foreign language film: Asghar Farhadi (The Salesman)
The Salesman won the foreign language film Oscar, although Asghar Farhadi could not make the ceremony because of President Trump's executive order that banned travel to the US from seven Muslim countries. Iranian astronaut Anousheh Ansari accepted the award on behalf of director Asghar Farhadi, and read his following statement;
"I'm sorry I'm not with you tonight. My absence is out of respect for the people of my country and those of other six nations who have been disrespected by the inhumane law that bans entry of immigrants to the U.S."