This spring, much to the delight of discerning locals and faithful residents, the latest chapter of the Marbella Club's story will unfold with the launch of its Clubhouse: a series of convivial, free flowing, indoor and outdoor spaces, designed for winning, dining, socialising, pampering and shopping. Drawing inspiration from the hotel's bohemian beginnings in the Fifties as a purposefully low-key hangout for Prince Alfonso and his glittering A-list friends, from Brigitte Bardot to Cary Grant, this reimagining of the hotel's original Clubhouse champions the best things in life – food and drink, fun, nature, friendship and family.
Guests can take advantage of several new additions: El Patio restaurant, the beating heart of the resort, overseen by the Marbella Club's newly appointed head chef, Sergio Arconada; Rudi's bar, a fitting tribute to Count Rudi, the hotel's first GM – who, at eighty-odd years old, still casts a watchful eye over proceedings; La Bodega, scene of wine tastings with head sommelier, Ángel González; bespoke private dining spaces; and an inviting central patio flanked by a hair & beauty salon, hair spa, barber, florist, gift shop, and flexible spaces for art exhibitions and pop up collaborations.
Adding to the hotel's relaxed, Andalusian-village feel, the Clubhouse spaces were designed by Marie-Caroline Willms and Johanna Haniel of Spain-based design studio, EMCI. Encouraging free flow of movement by linking a common thread of inspiration throughout, the spaces are based on a natural palette of simple materials of the past such as raffia, bamboo, hand-painted tiles and terracottas. Walls and soft furnishings adorned in Schumacer's Citrus Garden print bring a bold pop of colour, celebrating the plants the Andalusian region has become synonymous with. The result feels like a comfortable, homegrown cortijo offering the perfect setting for socialising in every season – whether you wish to enjoy the scented, bougainvillea decked terraces in the warmer months or choose to get cosy by the open roaring fires on crisp winter evenings during the cooler months.
The Marbella Club was born from bonhomie and the Clubhouse continues in this welcoming spirit, providing an inviting space for locals and guests alike to mingle and enjoy; equally suited to work and play, mornings and midnight, young and old. A fleet of talented creators – from artists, artisans, designers and craftsmen to mixologists and chefs – is taking up the reins, sensitively combining innovation with the hotel's timeless 'perfectly imperfect' roots.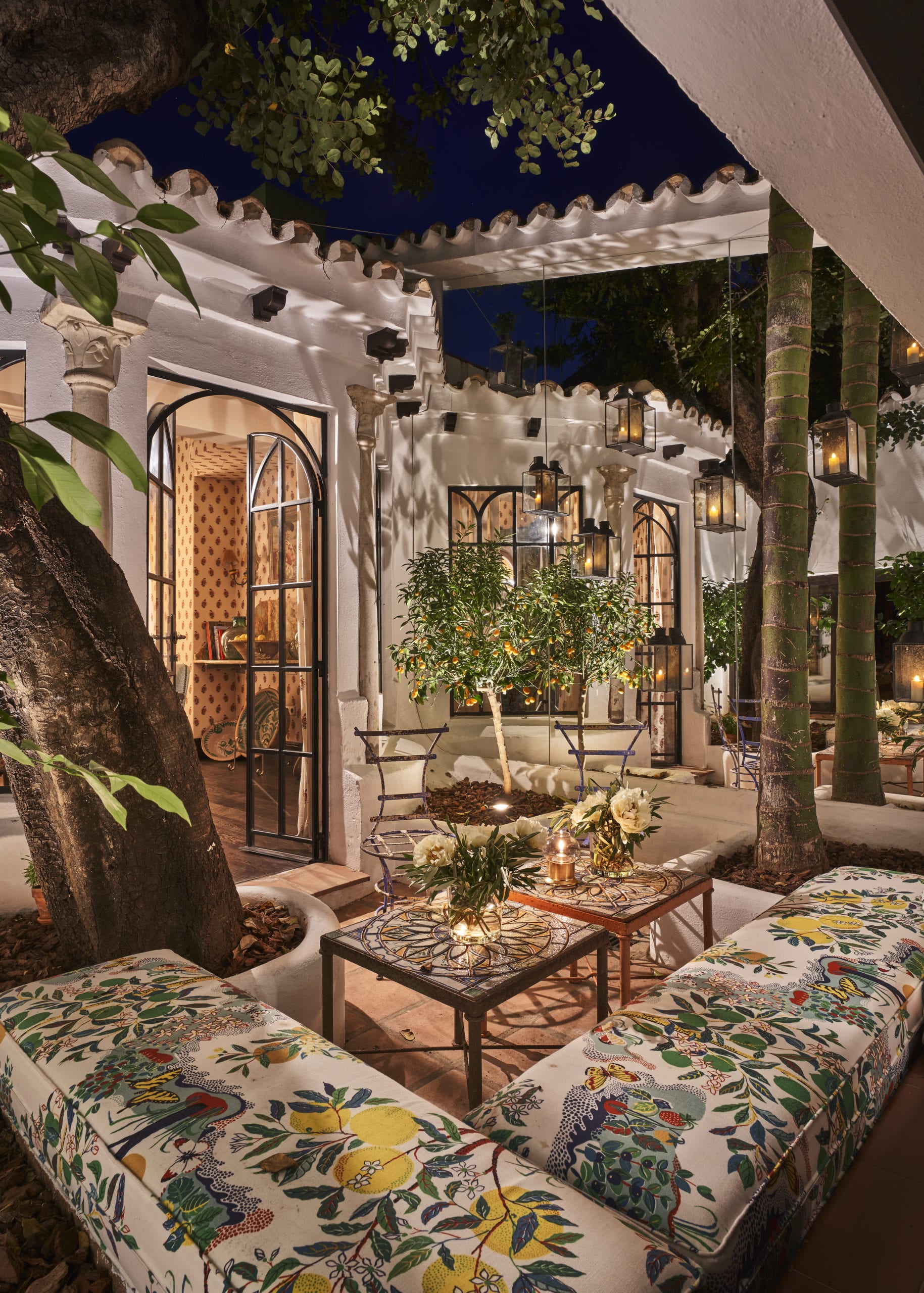 A closer look at the Clubhouse…
El Patio Restaurant (opening spring 2021)
The Marbella Club's new all-day venue features outdoor dining at its most magical. In the sheltered gardens of El Patio, nestled among the agapanthus, bougainvillea and jasmine, the verdant courtyard offers a peaceful sanctuary during the day, coming alive at night with its swathes of twinkling lights. It's the perfect spot for guests to gather for a morning coffee, pick-me-up juice, leisurely lunch, afternoon aperitivo, pre and post dinner cocktails and long feasting dinners. Whether it's in the cosy alcoves of the courtyard, among the vines or at big wooden tables, the options to take in the beauty of the setting are endless.
The exquisite decor features botanically inspired designs in gentle shades of russet, indigo, saffron and sage to subtly bring the freshness of the gardens inside. Encompassing two sophisticated spaces, the bar area and conservatory- style salon feature a hand painted fireplace made by artisans from Seville with merman sculptures, mythical creatures and allusions to the pine forest of the original finca on which the Marbella Club stands. Additional visual storytelling comes courtesy of raffia upholstered walls, plants inspired by Alfonso's travels, a "Plaza de España" – style circular bar, images from the hotel's colourful past and a vintage California-dreaming aesthetic that reflects Alfonso's fondness for LA's Fifties motels.
Courtesy of Executive Chef, Sergio Arconada, the menu will riff on the best of Andalucia's seasonal produce, with inspirations from the Mediterranean Rivieras and the Barbary coastal regions.  El Patio will showcase deliciously bright and fresh flavours packed full of herbs, spices and citrus, with sharing dishes roasted over wood fired or chargrilled in the open outdoor kitchen.
Head mixologist, Nelson Gallo, will add a dash of magic to the elegant drinks list, rustling up drinks with botanical influences galore. Liquid thrills star clean and simple home-made cordials and home-grown citrus fruits, garnishes and herbs. 
Assisting in El Patio's creative direction, service style and menus, Sergio and Nelson will collaborate with two other luminaries: executive chef, Esra Muslu (ex-Soho House Europe and Ottolenghi in London), and mixologist, Marc Álvarez, fresh from a six-year stint with the Adrià brothers and the El Barri restaurant group.
Rudi's
There's only one Count Rudi von Schönburg – and there's only one Rudi's. An elegant homage to Marbella Club's larger than life original General Manager and irresistible co-host, Rudi's bar is a snug, decadent winter den, ripe for champagne toasts and tapas, backgammon contests, and fireside nightcaps accompanied by live music. Designed to evoke the feel of a bohemian salon, only-in-Andalusia eye-candy comes in the form of plush polka-dotted sofas, Alhambra artworks, tassel-toting bar stools and a pop-up tablao stage for impromptu flamenco; there's even a shell-encrusted roaring open fireplace and a majestic tiger (in illustrated form).
La Bodega
La Bodega is a warm, inviting and intriguing setting, evoking the spirit of a traditional wine cellar and the scene for intimate wine tastings and private gatherings, presided over by the Marbella Club's expert sommelier, Angel Gonzalez. The hand-painted ceiling and bespoke cherry wood joinery complement the reclaimed wood-topped tasting tables made to house vintage wine box drawers, sourced from stellar bodegas. Marrying nature and technology, each drawer contains different soils, a small vine root and even biodynamic wine tools to enhance each layer of the story-telling process. Angel's prize wines and reference books are beautifully showcased within this ultimate candlelit library of curiosities and artefacts for guests to enjoy.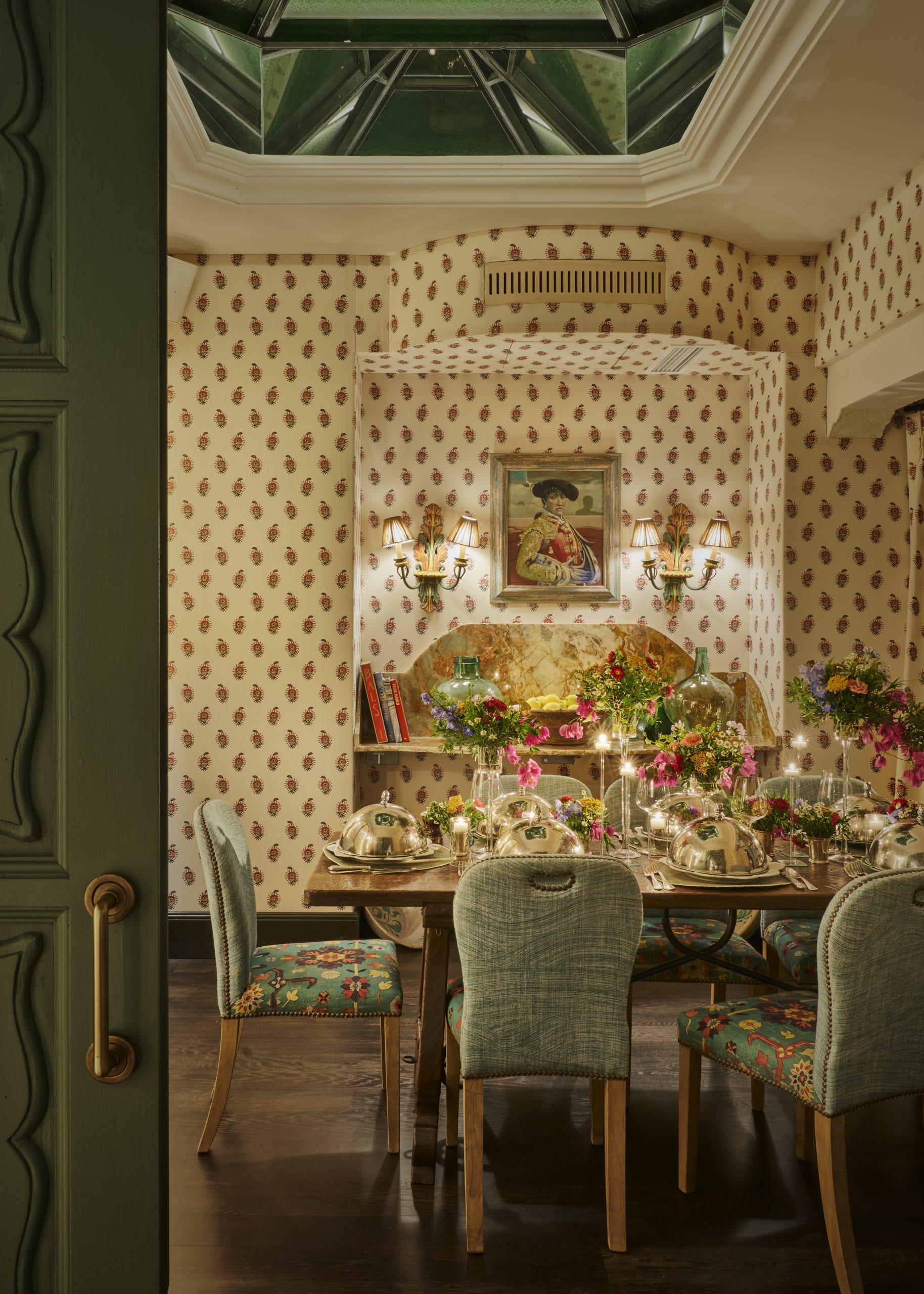 Private dining
The Clubhouse's two private dining spaces, with their adjoining private outdoor patios, cater for romantic dinners of two to intimate dinner parties of eight and even larger special occasions, with bespoke menus and creative table scape conjured up to suit the mood. Walls upholstered with Mayan designs, bespoke raffia blinds, reclaimed tiled floors and stunning perspectives are some of the details that add to the magic.
Long-established Clubhouse spaces:
The Grill
Every night of the year, 'Gaucho' Roque Juarez Junior fires up the sizzling hot coals of his legendary bronze clad grill continuing the Marbella Club legacy of his father, Roque Juarez Senior, and brings to life time-tested recipes than never fail to delight. Old world dishes such as Parmesan soufflé, lobster salad and duck a la miel are all delivered in the most romantic of settings, with theatrical glamour and iconic silver service, whether al fresco under the soaring pines of the summer terrace or in the candlelit cosiness of the newly refreshed decor of its beamed interior.
Summer Bar
The Summer Bar sits amongst the scent of jasmine and orange blossom, where tinkling piano strains and the murmur of sociable guests have soundtracked unforgettable nights since the Fifties. Jaunty citrus-print cushions hint at hours of lounging on the al fresco sofas.