''Alcohol-free, doesn't mean pleasure-free.'' The Sybarite reviews Three Spirits, the brand aiming to revolutionize the world of non-alcoholic drinks.
Three Spirits is a plant-based brand and your new favourite alternative to alcohol.  At Three Spirits they felt really strongly about creating a drink for the new era of drinkers, a new happy and healthy way of celebrating life without involving alcohol. After several years spent in labs, bars and libraries experimenting with plants, their great team of alchemists created a unique taste, a cool and different approach to the alcohol-free drinks world.
They have developed three different drinks combining plants and natural ingredients to stimulate the palate, mind and body and to give you that genuine boost and sensory pleasure. They are also vegan cruelty-free, sustainable and what is more important, they taste DELICIOUS.
Whether you are looking for a drink to keep you going through the night, from start to finish, or a new way to socialise through alcohol-free drinks,Three Spirits is a great choice.They have three different options to choose from Livener, Social Elixir and NightCap.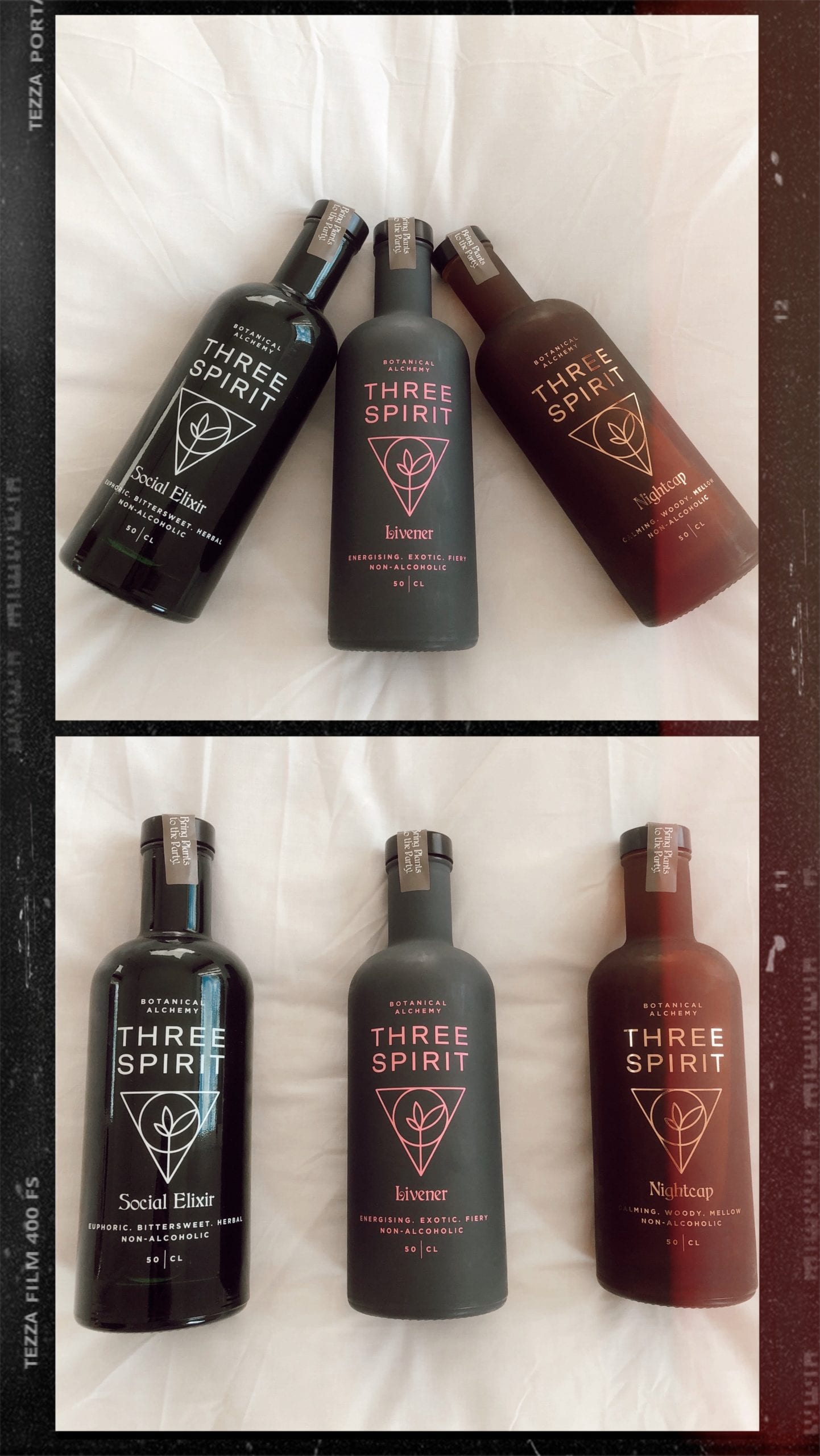 At The Sybarite we had the opportunity to try their delicious range of drinks.The pack arrived with their three spirits, really well presented, giving us a luxe feel and a great first impression. 
The bottles have a sophisticated and exciting design, each one of them has its own mark, tempting you to pour your first glass as soon as you take them out of their packaging (and it also happens to be zero-plastic recyclable).
We started with Livener, an uplifting elixir tagged as their 'pre-party' or 'pick-me-up' drink powered by guayusa, ginger, ginseng, hibiscus and many more healthy plants.  A first taste and you instantly feel the bitter notes of ginseng combined with the freshness of the watermelon. It has a strong and rich fruity smell. The cayenne enhances that fiery and warm tone bringing that sweetness taste. 
It was so good, we really appreciated the flavour of this first drink, absolutely enjoyable. It is definitely the perfect drink to get the party started.
If we found Livener really tasty, Social Elixir is even richer… Cacao notes, sweet hit of molasses combined with green tea and coconut vinegar, this drink is definitely really intriguing. A very deep and curious mix with an excellent smell and flavour. A full-bodied drink perfect for every moment or to continue the party. 
Nightcap is designed to be consumed when you are looking for a more relaxed night. This indulgent elixir contains lemon balm, giving us an instant citrus glow, valerian roots and a nutty and sweet taste from the maple syrup. It is truly amazing, that rich vanilla hit combined with hazelnut notes will, honestly, give you such a comforting feeling. We absolutely loved it.
After giving Three Spirits a go, we could not recommend them highly enough. Each drink has its own mark making each one of them really enjoyable for any occasion. In an ever evolving society in which focus is shifting from alcohol consumption to being more health conscious and environmentally friendly, we think Three Spirits is a wonderful addition to the non-alcoholic spirits industry.